Calon Segur 1982-2010: first ever promotional tasting in the US
January 23, 2014
In 2013, in Bordeaux, I convinced the recently named general manager Laurent Dufau of Chateau Calon Segur to come to Washington D.C. to present the wines of this famous estate – apparently the oldest in the Medoc.
Long considered a hidden jewel, this 3rd Growth from the famous 1855 Classification of the Medoc and Sauternes comes from arguably the least well known Medoc appellation. Most everyone has heard of Pauillac and Saint Julien and Margaux. The first boasts three first growths (Latour, Mouton and Lafite). The latter has an elegant and easy ring to it; its recognition famously augmented by the first growth bearing the appellation's name. Saint Julien, sandwiched in-between, is filled by super seconds, from Gruaud Larose and Ducru Beaucaillou, to the famous Leoville trio: Barton, Poyferre and Las Cases.
Further to the north, Saint Estephe is mainly known for its two super star seconds in Cos d'Estournel and Montrose and for a slew of excellent cru bourgeois wines such as Haut Marbuzet or Les Ormez de Pez.
But what about Calon Segur?
Up until now, it has been – by far – the most discrete. When Dufau arrived in Washington D.C. from Paris to host a tasting of 16 vintages that I organised for Ripple Restaurant, he said that this was the first such promotional tasting in the US with a chateau representative in a very long time. I asked "Since 20 years?" He replied: "Since 120."
A bit of history
Less than 50 years since it was named officially a third growth, this estate was acquired by the Capbern Gasqueton family.
Unlike the owners of other estates, the Capbern Gasqueton family shied away from the press. Well into the 20th century, it did not join the UGCB of Bordeaux – and their yearly world tours – and generally did next to nothing to market their brand. Of course, true Bordeaux lovers know Calon Segur. Critics like Robert Parker have praised the estate, which sells well. But it has been a kind of Sleeping Beauty.
I recall calling Madame Denise de Gasqueton, shortly before her death at age 87 in September 2011, to tell her how much I love the wines, and that I wanted to visit, but she seemed aloof.  Indeed, she kept herself and the estate very private and was known for her somewhat "irascible" nature,  as friend and fellow wine writer Jane Anson wrote for an article in Decanter at the time of her passing.
"She was renowned for turning away journalists and buyers, whatever their status – she was also an attentive owner, and her intelligence and expertise were legendary in the region," Anson wrote.
FAMOUS QUOTE
The Marquis de Ségur, former 18th century owner of Lafite, Latour and Mouton, as well as Calon:"I make wine at Lafite and Latour, but my heart is in Calon". The heart drawn around the chateau's name on the label today symbolizes that love – and makes for a perfect Valentine's Day gift for your wine loving sweetheart.
Changes afoot
After her husband Philippe's death in September 1995, she took over the running of the estate. And just a few years later, she started to reorganize the vineyard. When the manager of Calon Ségur retired in 2006, Madame de Gasqueton hired Vincent Millet – who had previously been the director of research and development at Chateau Margaux – to take over winemaking. Vincent Millet chose to focus on the 55 hectares of the main vineyard to make Calon Segur. He discontinued using vines from outside the main vineyard for the first wine. He started to increase the percentage of Cabernet Sauvignon, to the point where the average blend in recent years is about 80-20. In 2009, a vintage I adore, he used some 90% Cabernet Sauvignon.  He also increased the percentage of new oak to 100%.
Changes continued under the new owners following the death of Madame de Gasqueton passed. Her nieces sold their shares of the estate, compelling Helen de Baritault, the daughter of Madame de Gasqueton, to sell it. Crédit Mutuel Arkéa (Suravenir group) and the wine merchant Jean-François Moueix (of Petrus) acquired Calon-Ségur.
The new owners hired Dufau to start promoting the wines. So the vertical and tasting of this estate was a first indeed.
Participants included many wine geeks, professional wine sellers, sommeliers, merchants and restaurateurs. It was fun. And a good learning experience. Important to note that since 2006, the estate has been increasing the density of its vineyard planting and the percentage of Cabernet Sauvignon. Until 2006, the blend included as much as almost 50 percent Merlot. Since that vintage, the average has been closer to 80/20 Cabernet/Merlot. My overall favorite is 2009: a superb vintage that defies the high alcohol trends of Bordeaux and will prove to be something very special in 15-20 years. Please note that tasting notes/scoring reflected matches with the great food at Ripple. For example, the 2007 was just lovely over dinner. I also took vintage character into account, noting that – for a 2007, Calon did well. By the same token, I scored the 2005 less than I should have, perhaps, but I thought it was not as good as the vintage character would lead one to believe.
2010 Château Calon-Ségur – France, Bordeaux, Médoc, St. Estèphe
When tasted en primeur, I found it a bit too austere but it has tamed itself… And yet, this is a wine that needs lots of time. Several participants at a dinner I organised for Ripple Restaurant in Washington D.C. voted this wine as the best for the future, among 16 vintages. The structure is there, the freshness and the substance. It is not just together yet. Potential for a higher score. (93+ pts.)
2009 Château Calon-Ségur – France, Bordeaux, Médoc, St. Estèphe
This is a great bottle of wine. There is sex appeal and structure. The northern Medoc excelled in 2009. While some people believe that 2009 is an all-around positive vintage, let us not forget that this is when Merlot started getting out of hand… Not so in the Medoc, and certainly not at Calon Segur. Some critics ooh and ah over the excessive winemaking at Cos d'Estournel in that year, which comes across as a caricature of winemaking. Here we have 100% new oak, but very well integrated – and 90% Cabernet. This wine should evolve into something special. Montrose is no doubt better, but Calon Segur amounts to less than half the price…. (95 pts.)
2008 Château Calon-Ségur – France, Bordeaux, Médoc, St. Estèphe Fine and fresh aromatics. Yet another underrated 2008. Critic John Gilman prefers this over 2010 and 2009. While I would not go that far, this wine offers fine ripeness and excellent verve if not as structured as either 2010 or 2009. But people who dismiss this as not as concentrated may be in for a surprise. There is sneaky persistence on the finish. And plenty of charm! (92 pts.)
2007 Château Calon-Ségur – France, Bordeaux, Médoc, St. Estèphe
One of the better 07s from Bordeaux. Very charming and went so well with the dinner. Slight bottle variation. But here we have a wine that is more reflective of the terroir: since around that vintage, the estate started making its wine exclusively from the 55 hectares within the clos of the chateau. And they used more Cabernet: here some 83% Cabernet (as opposed to the virtual 50/50 mix of Cab/Merlot with the 2005). A lovely effort. (90 pts.)
2006 Château Calon-Ségur – France, Bordeaux, Médoc, St. Estèphe
Not sure what to think of the 2006. Stolid. Yet solid. No word play . I recall reporting in September in Bordeaux for decanter.com when the rain fell, and got some savory quotes from Jean Rene Matignon of Pichon Baron basically saying that this was detrimental to optimal ripeness. Laurent Dufau of Calon Segur himself compares 2006 to 1975: "Will it ever come around?" The substance is there, on the mid palate, but it is hardly pleasurable. Gilman is convinced that this will be great down the road. Cross the fingers, but for now, it is not ready. (89 pts.)
2005 Château Calon-Ségur – France, Bordeaux, Médoc, St. Estèphe
A rather disappointing 2005. While it was good, it was somewhat Merlot glossy. Not spoofilated like a Pavie of the same vintage, for example, but lacking nuance and complexity. It was pleasing, to be sure. And some tasters ooh and ah over this. But I think it lacked gravitas. Let's just say that 2006 had too much gravitas, and 2005… not enough. (90 pts.)
2003 Château Calon-Ségur – France, Bordeaux, Médoc, St. Estèphe
Cornucopia of aromas and flavors and not cooked or jammy. One of the very best wines from this torrid vintage – and it is no coincidence that Calon Segur is in the northern Medoc. It lacks the substance of the greater mid palates from 2003 (Pichon Baron or Leoville Barton for example) but its charm is appealing. (92 pts.)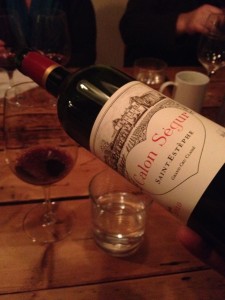 2002 Château Calon-Ségur – France, Bordeaux, Médoc, St. Estèphe
I used to love 02s from the Left Bank, but be warned that some seem on a faster evolutionary track than before. There was discussion over 2001/2002, with some tasters saying that the 2002 will outlast 2001. For me, the 2001 – certainly "classic" – has more matiere and I lean towards the view that the 2001 will outlast the 2002, in this case. (89 pts.)
2001 Château Calon-Ségur – France, Bordeaux, Médoc, St. Estèphe
Here a solid example of a Medoc 2001 that is provides structure and tannin for the longer haul. While opening 2001s and 2002s before the dinner, I was surprised by the air that 2001 needed. This wine obtained the most votes for wine to be consumed in 10 years. I would agree. The 2009 and 2010 need 20. (91 pts.)
2000 Château Calon-Ségur – France, Bordeaux, Médoc, St. Estèphe
In a closed phase. I think that this wine has much potential but it seemed very muscular, pebbly and closed down. Do not touch now. Likely higher score down the line. As Danny Fisher and I opened bottles before the dinner, the 2000 was noticeably larger scaled than either the 1999 or the 1998, but over dinner, it seemed in a closed in phase. (90+ pts.)
1999 Château Calon-Ségur – France, Bordeaux, Médoc, St. Estèphe
Smooth and accessible. I recall trying this along with Montrose 1999 five years ago in Bordeaux, and many preferred the Calon Segur 1999. This wine seems very juicy and accessible and some at my table loved it more than either the 1998 or the 2000 – at first. But over time, we realized its limitations. If you have any 1999, enjoy it sooner than later. (90 pts.)
1998 Château Calon-Ségur – France, Bordeaux, Médoc, St. Estèphe
What a very pleasant surprise. The Cabernets have been tamed with time in bottle. 1998 saw rainfall that messed up the Cabernet harvest – otherwise it would have been like 2000. 1998 was a great year for Merlot and Calon Segur included some 50 percent Merlot in this period, so we have a wine with a very endearing nose followed by structure that has some flesh. Lovely stuff! (92 pts.)
1996 Château Calon-Ségur – France, Bordeaux, Médoc, St. Estèphe
What lovely cool blueberry fruit. This had much precision and focus and it was one of my favorite wines of the evening. It was interesting to compare this to 1995 and 1989. Keith Levenberg loved the 1995, and while the 1995 may have had more substance on the mid palate, I think that the 1996 conveyed greater freshness and precision. An interesting comparison to be sure. (93 pts.)
1995 Château Calon-Ségur – France, Bordeaux, Médoc, St. Estèphe
The aromatics were more roasted to the cool 1996. The palate quite enveloping and full bodied and – pleasing. I liked the palate feel and the fact that I felt this wine pushing my flavor sensors in a good way. But it had just a touch of monolithic to it. (91 pts.)
1989 Château Calon-Ségur – France, Bordeaux, Médoc, St. Estèphe
Here some bottle variation, and one table had the really good bottle (among the three per vintage). Still, I could understand why over half of the 35 participants at this marvelous dinner chose this wine to be their favorite among the 16 vintages to drink today. From Phil Bernstein of MacArthur Beverages to Kathy Morgan, master sommelier, this was the proverbial "wine of the night". I liked the bloody aspect to this wine, which paired superbly with the lamb: an excellent wine/food pairing, but still found myself more into the 1996. (92 pts.)
1982 Château Calon-Ségur – France, Bordeaux, Médoc, St. Estèphe
Once again: bottle variation. There are 1982s and there are 1982s. Just two years ago, a Calon Segur 1982 beat out most others as the "best". But we have had a string of slightly oxidized or tired versions this evening. The one at our table was not oxidized but somewhat muted. With air, it started to liven up, but it had already been carafed for about one hour – and we were worried about too much contact. Although it firmed up, it never achieved a superior level of complexity and nuance that I had had with another 1982 some three years ago. (91 pts.)
Many thanks to Laurent Dufau for his generous offer of most all wines. To MacArthur Beverages for providing importing of the bottles. And to participants Maria Denton, who brought four bottles of Krug to start things off, to Chris Bublitz, who brought a couple of 1982s, to Howard Cooper for bringing a magnificent bottle of Lafaurie-Peyraguey 1986 and to Randy McFarlane for a Rieussec 1989.