Ugly 2013 weather, but fine Burgundy wine: mostly 2011s and 2012s (Update with comments by Romain Taupenot)
June 9, 2013
By Panos Kakaviatos
As I finalize this post, I have just returned from Vinexpo in Bordeaux where I attended the annual Fete de la Fleur, a big party meant to celebrate the flowering cycle of the vineyard. But the French word for shattering is coulure and, given the constant rainfall in this crucial flowering period, it was more like the Fete de la Coulure. Dramatic rainfall in May 2013 meant an inauspicious start to the 2013 vintage almost throughout France, Burgundy included. Although in early June, the weather initially seemed to have improved, as Frédéric Mugnier of the renowned Domaine J.F. Mugnier in Chambolle Musigny told me on the phone, since then – there has been further rainfall, which is not good for the flowering period of the vineyard.
Coulure (or shattering) is triggered by periods of cold, cloudy, rainy weather or very high out-of-season temperatures. This past spring, we have rather low out of season temperatures – and rain. The flowers remain closed and are not fertilized resulting in non-pollinated vines and later likely irregular bunches of grapes, which are less compact than normal. These bunches become in turn more sensitive to developing various diseases. Yields will decrease. The cold weather actually stalled flowering, which presages a later harvest: the weather remains crappy… in most of France. The hardest hit has been Vouvray. If we have a normal summer this means that the later summer and early autumn will need to be good.
But let's get to Burgundy! I had driven three and a half hours from Strasbourg to spend three splendid days in the Cote d'Or (29-30-31 May) and was joined on the morning of the second day by friend and fellow (and famous) wine writer Jane Anson.
We tasted many 2012s from barrel and 2011s that either were about to be put in bottle, or had just been bottled. Click the links to each domain visited to get to the tasting notes immediately, but please, gentle reader, read on beforehand… some interesting points to make for all ye wine geeks.
To view photos in their full-sized glory, click not once, but twice. Don't ask me why…  
Wednesday 29 May: Marquis d'Angerville, Domaine Simon Bize, Louis Jadot, Meo Camuzet
Thursday 30 May: Armand Rousseau, Domaine de l'Arlot, J.F. Mugnier, Bruno Claire
Friday 31 May: Clos des Lambrays, Taupenot Merme, Bonneau du Martray, Thibault Liger-Belair
First off, I am still getting to grips with Burgundy, trying to understand tasting barrel samples for example. I started my love for wine in Bordeaux, and, like the heart on Calon Segur, my heart is beating for Bordeaux still…. But I love, more and more, the great wines of Burgundy.
Second, I do not like point scores when we talk of barrel samples, but succumb to the much used point ranges on occasion for barrel samples, and when I feel like it. I like to use bold for wines/samples I particularly liked, then red and bold when I liked them even more, and when underlined, too, the best.
If you see an asterisk*, that means the wine may be close to an orgasmic experience.
In any case scores are hard to square with subjective taste: one man's 97 is another man's 92.
Third, I had just come off a very nasty cold the week before my visit, and my nose was still a bit runny. On the first day, Wednesday 29 May, when I got to Domaine Simon Bize in Savigny, I felt whacked, tired and did not take formal notes while tasting 2012 barrel samples, leaving only general impressions. Owner Patrick Bize was coughing and sneezing, too – and complaining about the cold wet weather that had prevented him and other vintners from using tractors to treat the vines for shattering. But more on that below…
What's up with the Greeny Meanies?
Fourth, yes, there were many ladybugs during harvest time in 2011. And as you may have already heard, wine writers (quoting vintners) have pointed out that lady bugs may have something to do with greenish flavors that come to the fore only after the wine has been in bottle. So the off flavors that may come from these bugs are not detectable necessarily early on.
Here a nice explanation from Burgundy Report regarding the phenomenon with the 2004 vintage, which has been known to be affected by these so called Greeny Meanies.
Basically, reducing insecticides to let nature run its course has allowed nature to, well, run its course. Naturally occuring pyrazines, most likely methoxy-pyrazines (MP's), come from ladybugs, that for one reason or another, have been running rampant in recent years. Apparently these coccinella use methoxy-pyrazines as sexual attractants that somehow may have influenced green flavors in the 2004 vintage, which was apparently full of these buggers at harvest time. I would not know for sure, as I was not there. But enough vintners claim it to be the case.
Thibault Liger Belair of the domain bearing his name in Nuits Saint Georges spoke of "orange sorting tables" in 2011. The picture taken above at Clos des Lambrays comes from the 2011 harvest. And it has become common knowledge that these bugs are increasingly present at least because fewer insecticides are being used. But how certain can a wine lover be about their link to green flavors?
Virginie Taupenot Daniel of Domaine Taupenot Merme in Morey Saint Denis claims that many such ladybugs were there during the 2005 harvest, and rather rare are the 2005s that taste green. Right? It is unclear to me to what extent the 2011s may suffer from this "ladybug" effect, but the problem is that perhaps even at this stage, when the wines have just been put in bottle or are about to be put in bottle, the green notes are not easily detectable.
Tasting with Jane Anson, I detected few evident green flavors at the above properties, some exceptions. Thierry Brouhin, director at Clos des Lambrays in Morey Saint Denis, believes that such off flavors can be avoided with special sorting machines built to remove them – and he showed us a contraption that he had bought three years ago.
UPDATE!
In subsequent e-mails reacting to this text, Romain Taupenot, co-owner and winemaker at Domaine Taupenot-Merme, took the time to stress that, although "we have got some lady bugs in 2011, there is no comparison with 2004 in terms of wine flavours."
He explained that he has "read several times" people making the comparison with the 2004 vintage. He also wrote me that 2011s have a "purity" that 2004 "did not have in their youth, when contaminated."
As for 2005, yes there were some lady bugs, but "you had to look for them with a magnifier…"
What can I say? The 2011s I tried, in part with Jane Anson, seemed on a general level, rather fine and sometimes very delicious to me.
They did not seem as exciting as 2010 (or 2009 or 2012), but "green" notes were not often encountered. Could such notes appear later?
That is a good question.
Mr. Taupenot really believes that 2004 was much worse in terms of the number of lady bugs and on a general qualitative level, he describes 2011 as follows: "2011 is rather in the style of 2007, showing floral, elegance and purity in fruit, being more structured, having more acidity, freshness and depth."
On wine and weather
So in late May 2013, depressing weather dominated. Patrick Bize had a bad cold, coughing and complaining about muddy terrain that prevented tractors from treating vines pre-emptively against shattering. The one article I wrote for decanter.com, with Jane as well, was on the weather, as you can read here.
Highlights from these three days included a breathtakingly amazing Armand Rousseau Clos de Beze 2010*, a not-quite-as-good-but-still- impressive Armand Rousseau Chambertin 2009, a majestically ethereal JF Mugnier Bonnes Mares 2008, and – frankly – an amazing Taittinger Comtes de Champagne 2002*, which I had brought for a lunch with Virginie Taupenot-Daniel and Jane over lunch in Morey Saint Denis.
Champagne counted among the top wines I tasted in Burgundy in late May 2013, among wines from some of the most famous properties there, including Clos des Lambrays, Domaine de l'Arlot, Bruno Claire, Marquis d'Angerville, Bonneau du Martray and more. Two other "star" wines of the visit come to mind: a succulent and fine Marquis d'Angerville Volnay Champans 2011 and Bonneau du Martray 2010. But read on, for complete notes…
Wednesday 29 May
Mighty fine visit at Marquis d'Angerville
A pleasure to meet Guillaume d'Angerville, owner of Domaine Marquis d'Angerville, whose wines are known worldwide for their finesse. In the d'Angerville family since 1805, the estate today produces no less than seven premier cru Volnays, and I had the good fortune to taste six of them from the 2011 vintage. The most famous comes from a 2.15-hectare monopole vineyard called Clos des Ducs – where I did a video with Guillaume d'Angerville. Note the sound of draining water: lots of it, because it had rained so much.
I did not get green notes. The most impressive was Champans, when price is taken into account. A great way to start this three-day Burgundian feast. D'Angerville was not overly concerned about the rain and lack of sunlight, because at this stage, he said, it is too early to make pronouncements – given June, July and August and September to come. Good point.
2011 vintage 
Volnay Clos des Angles comes from a parcel of just over one hectare. Just underneath the Fremiet, a bit lower along the slope, with a richer soil and less rocky. This was a smooth wine, elegant and fresh. Average age of vines about 50 years old. The wine was elegant and fresh.
Volnay Fremiet Coming from vines grown in the north of Volnay, just above the famous Clos des Ducs vineyard and closer to Pommard, this was more open and aromatic, showcasing red fruit freshness. Marquis d'Angerville has just over 1.5 hectares in Fremiet. Just about 30 cm of clay over limestone rock, which lends such finesse to the wine.
Volnay Caillerets. This was truly diaphanous and refined, with perfumed aromatics. Lovely. The soil is very poor, with a bit of iron, and Marquis d'Angerville has just less than half a hectare of this terroir. Better than Fremiet, from memory.
Volnay Taillepieds. This was more closed than the others, and the palate showed more structure than sap. A famous terroir of which Marquis d'Angerville owns just under 1.1 hectares located south of the Volnay village high on a slope, with poor rocky soils. The name comes from a legend that vintners rapidly wore out their shoes due to the rocky soils along a steep slope. Certainly stronger than either Champans or Caillerets but to me, this sample was not as charming as either.
Volnay Champans*. The second to last to taste, because Guillaume thought Champans best combined best all elements of the preceding terroirs, and I loved this one the most overall. What spherical completeness! What charm, combined with substance! Without hesitation, I ordered three bottles from the better 2010 vintage. If 2011 is this promising, imagine how good 2010 is, I thought. Marquis d'Angerville owns just under 4 hectares from this appellation, with a fine south/southeast exposure situated in the center of all Volnay 1st growth vineyards: prime real estate. Here more iron rich soil over a rocky limestone which, sloping downwards, turns more pebble like and then with deeper clay. Described by d'Angerville as the "archetype" of Volnay, I agree: finesse, depth, generosity of flavor, sap and precision.
Volnay Clos des Ducs. But wait, it does get better… This is the famous vineyard in the domain's stable. The sample did show more depth than any of the preceding wines, including Champans, but taking price into consideration, I prefer Champans. Clos des Ducs is not quite as overtly expressive, but shows the greatest depth. In any case, it is the most expensive of all the Marquis d'Angerville wines because of it superb rocky limestone soils and southeast exposure, with excellent drainage abilities. Before tasting, we could hear the copious water draining from the vineyard.
Wednesday 29 May: Marquis d'Angerville, Domaine Simon Bize, Louis Jadot, Meo Camuzet
Thursday 30 May: Armand Rousseau, Domaine de l'Arlot, J.F. Mugnier, Bruno Claire
Friday 31 May: Clos des Lambrays, Taupenot Merme, Bonneau du Martray, Thibault Liger-Belair
At Domaine Simon Bize in Savigny, a cold cellar. We tasted 2012s from barrel. This was my second visit to this estate. Wines often punch "above their supposed weight". I have enjoyed Savigny les Beaune 1er Cru Vergelesses Blanc 2008 and the red Savigny Les Beaune Aux Grands Liards 2009.
The domain has been in the same family since 1890. Patrick Bize, born in 1952, has been running the estate for many years now. At first his Japanese wife Chisa welcomed me, explaining that he was in the vineyards working.  Patrick later showed up – wheezing and coughing and calling the situation "dramatic." He said that he could not do treatments by tractor, as the rain had made the soils too gooey, so human carried spraying was essential.
Just by chance, Cyrielle Rousseau, daughter of Eric Rousseau, of the famous domain Armand Rousseau, was also there. Most of the wines had not yet undergone malolactic. Patrick said that the vegetation cycle is about one month late.
Went through a number of 2012s, many had not yet begun their malolactic fermentation. Because I was not feeling well at the time of this visit – overcome by a bit of fatigue from a nasty cold I had a few days before – I did not take notes, but I recall very much enjoying the Savigny Les Beaune 1er Cru Guettes and Marconnets as conveying particularly pure expressions of ripe fruit and underlying stony aspects.
I really liked Latricieres Chambertin the most. Most samples seemed at least pretty good, although the reduction aspect for some was high, and it was hard to judge. As for the whites, I recall being quite impressed with the basic village Savigny les Beaune as fresh and and having verve.
Wednesday 29 May: Marquis d'Angerville, Domaine Simon Bize, Louis Jadot, Meo Camuzet
Thursday 30 May: Armand Rousseau, Domaine de l'Arlot, J.F. Mugnier, Bruno Claire
Friday 31 May: Clos des Lambrays, Taupenot Merme, Bonneau du Martray, Thibault Liger-Belair
At Maison Louis Jadot, director Frédéric Barnier, pictured below, stressed: "We need sunlight". He called light deficit "enormous" and said it may be the coldest May since 1887. Since January, twice the normal amount of rainfall. In May alone normal rainfall is 150 to 200mm, but by the end of May, it will be about 400mm, he said. Coulure (shattering) has started, he said. The flowering had not yet started, which is abnormal, and yet the "precursors to flowering" – les embryons de fleurs – have been adversely affected.
"Some will not be able to start," he said. Barnier noted that his cherry tree has suffered from shattering, with many cherries dropping from the trees – something that Thierry Brouhin repeated two days later, pointing to the cherry tree in the Clos des Lambrays vineyard.
He did not comment on how his directing may change from that of Jacques Lardière, whom he replaced last year, after several years of working with the legendary former director at Louis Jadot. "It is too early to talk about changes, because no one can replace Jacques," he said with a smile full of respect.  I wrote about the change, "Passing The Torch" published by France Today last year.
Barnier does not speak in mystical prose, as Jacques did. One see a change in personality. Whether winemaking or vineyard management will change can only be ascertained over time.
2012s – Whites 
Barnier noted that whites were "more challenging" in 2012, a more heterogeneous result compared to the reds: "You could not say that one appellation was more successful than another, because differences from one parcel of vines to another were remarkable," he said. Very small yields, from 20 to 25 hectoliters per hectare. I noted "viscosity" in the wines, but they were never heavy, with good enough acidity to balance things out.
Meursault Villages (sample from Troncais oak): needs more time to absorb the oak flavor, but quite nice, full textures and length
Meursault Villages (sample from de Neviers oak): needs less time to absorb the oak and a better tasting sample, more sap and energy…
Both of the above will go into the final blend of Louis Jadot Meursault
Chassagne Montrachet Caillerets: Lots of sap, energy, depth and vivacity, with tension. This seems to be a very successful wine.
Puligny Montrachet: More reserved and yet also showing fine depth and pleasing texture. I did not take detailed notes on this one.
Puligny Montrachet Garennes: White pepper notes coming from the oak no doubt, somewhat more dominated by oak than the Chassagne at this stage.
2012 – Reds
Acidity – like other 2012s – is not very high. Interesting comparison, with, say, 2008. Both vintages saw disease in the vineyard. But while 2008 is marked by high acidity, 2012 is not. Both reflect lower than average yields, although 2012 is lower than 2008. Barnier explained that in 2012, skins turned thick to defend themselves against disease and were better able to defend themselves against botrytis. The few healthy grapes that remained by the time of the harvest were in excellent shape with fine ripeness. 2012 enjoyed a better and more cohesive Indian Summer than did 2008. To quote Clive Coates from his vintage report:
From mid-July onwards the weather was warm, sometimes hot, mainly dry, and extremely sunny. It could hardly have been better. And this weather continued through August and well into September. While the summer heat cooled off somewhat as the harvest approached it remained largely dry, and if a bit nippy over-night from time to time (which preserves the acidities), nevertheless nice and warm in the afternoon.
I did not try all the reds, since some were still just finishing the malolactic fermentation or were being racked.
Volnay Santenots: Deep red color, yield of 12 hectoliters per hectare – typical of the very low yields in 2012. I liked the attack and the mid palate, but found it to be a bit drying on the finish.
Volnay Clos de la Barre: Finer, more supple and fruit driven, with violet and forest strawberry aspects. Juicy. Lovely Volnay.
Pommard Commaraine: More structure here, some sweet juiciness, marked by oak.
Pommard Rugiens: Just three barrels in 2012. Rich, deep and very impressive!
Fixin: Spicy. A bit more rustic. Agreeable richness on the mid palate. Again there is a certain sweetness to this, due to low acidity.
Chambolle Musigny Feusselottes: Here a sample that is driven by structure.
Chambolle Musigny Baudes: Sweeter than the above, warmer.
Gevrey Chambertin Estournelles: Vineyard above Clos Saint Jacques, cooler climate, more suitable to warmer vintages. Very fine, elegant, and finely grained tannins. I really liked this one.
Gevrey Chambertin Lavaux: From the lower part of the Clos. Richer, warmer, "fuller" tasting. It has been racked about three weeks ago (racking at Louis Jadot is done once after the malolactic fermentation and once again before bottling). I think I prefer the Estournelles, but this was good.
Gevrey Chambertin Clos Saint Jacques: A sumptuous sample, most harmonious among the three Gevreys tasted from barrel.
Clos Vougeot: Louis Jadot vineyards are on the lower part of the slope so the Clos Vougeots here tend to be rich and earthy. Certainly conveyed much breadth on the palate, presaging a full-bodied wine.
Wednesday 29 May: Marquis d'Angerville, Domaine Simon Bize, Louis Jadot, Meo Camuzet
Thursday 30 May: Armand Rousseau, Domaine de l'Arlot, J.F. Mugnier, Bruno Claire
Friday 31 May: Clos des Lambrays, Taupenot Merme, Bonneau du Martray, Thibault Liger-Belair
At Domaine Meo-Camuzet in Vosne Romanee
Jean Nicolas Méo welcomed me for my second visit to this esteemed domain, which traces its history to the early 20th century, when it was founded by a member of the Camuzet family. In 1959, it was bequeathed to the Méo family, and, after a period of time when the grapes were sold to the negoce, the estate again began selling under its own label, directly from the cellars starting in the 1980s.
Jean-Nicolas Méo is in charge of technical and administrative matters, and he is helped by Henri Jayer who advises him on winemaking and by Christian Faurois, vineyard manager.
The day continued dreary and rainy.
Interestingly, Méo pointed out that acidities before malolactic fermentation in 2012 seemed high, but afterwards, they turned out to be lower than in 2010…  We began with some whites from 2012.
Whites 2012
Clos Saint Philibert Haut Cotes de Beaune: I must say that this white displayed fine freshness and was balanced between richness and acidity. Nothing overly memorable but a fine white.
Corton Charlemagne: A small production that Méo rents (not owns). A touch flat for me, with an over rich aspect. I told him this, and he replied that he prefers richer styled whites, that Burgundy "had gone too far" in reacting to California Chardonnays by crafting too many stiff and acidic whites. Perhaps. But I could not bring myself to really like this barrel sample.
2011 reds
Marsannay: Aged in 10 per cent new oak, this was friendly and frank and a good drink, nothing more.
Morey Saint Denis: I liked this more, it had more richness and body, decent texture on the palate, lingering finish. Aged in 25% new oak. Nice job.
Chambolle Musigny: Wow, this is getting better. The texture is more refined, remaining rather rich and full (you can sense the "matiere"). At this stage Jean Nicolas agreed that 2011 is as charming as 2007 but with more substance. The villages Chambolle of Meo Camuzet is made from one-third owned grapes, and two-thirds purchased grapes.
Vosne Romanee: Here there is 50% new oak in the aging. The toasting is medium minus, he said and all his oak is sourced from Francois Freres (two and three year drying of staves). This was my favorite wine so far. Made from a parcel high on the slope near the village, successful in a warm year, it conveyed floral aromatics and came across as tonic and alive. A fresh and lingering finish. Nice job!
Vosne Romanee Les Chaumes: Rich and even slightly hefty… but I like the substance – certainly more of it than the preceding village wine. I noticed a bit of a tough finish, slightly hard. At this point Jean Nicolas remarked that he may have erred in using 10-15% whole clusters in 2011 for this wine. "It gives the wine more length, but we lose some elegance," he said.
Nuits Saint Georges Les Perrieres: The aromas are perfumed, refined. The palate is a touch hefty but smooth and again a bit of toughness on the finish.
Nuits Saint Georges Aux Boudots: Spicy, floral, of a very fine tannic grain on the palate, has a certain rusticity compared to my morning favorite Volnay Champans at Marquis d'Angerville, but that is perhaps a "normal" appellation comparison. 70% new oak. Successful here, certainly better than Les Perrieres.
Clos Vougeot Les Chioures. Very aromatic and just lovely overall. Appealing musk like aromas and flavors.  Coming from poor and very rocky soils, aged in 100% new oak, quite well integrated.
2012 from barrel
Corton Perrieres. Malo is 80% done. What I recall really liking about this wine was its balance of both tension and richness, finesse and fruit. Lovely job!
Vosne Romanee Les Brulees: Beautifully balance yet again between richness and elegance. A lovely sample.
Vosne Romanee Clos Parantoux: Hard to taste, as malo was 30% done, but very promising.
Richebourg: Malo done about one month ago. Some smoky notes, could they be due to the influence of the oak? But what depth and length! Richness is there as well but not overly evident. Refined wine.
Wednesday 29 May: Marquis d'Angerville, Domaine Simon Bize, Louis Jadot, Meo Camuzet
Thursday 30 May: Armand Rousseau, Domaine de l'Arlot, J.F. Mugnier, Bruno Claire
Friday 31 May: Clos des Lambrays, Taupenot Merme, Bonneau du Martray, Thibault Liger-Belair
Thursday 30 May with Frederic Robert at Armand Rousseau
One year ago, I was driving by and saw Charles Rousseau – the son of founder Armand Rousseau – walking by. Greeting him, I said that next year "I really want to visit your domain" and he said "Please do." Sounds mundane, but this is one of the very best producers in Burgundy. So it was a bit deflating when I showed up late for my morning appointment.
Mr. Rousseau was at the entrance saying "Hurry down there; they have already started." So I missed out on tasting the village Gevrey Chambertin…
We were a group of tasters: a couple from Ireland, a winemaker from Italy, and a group of merchants from Switzerland. Jane Anson flew in and came later than I did, missing some of the initial wines.
In any case, I obtained no false notes in tasting these 2012s. Just an amazing visit… and frustrating, because I cannot afford most of these wines. They have become so expensive.
What can I say in general about this utterly magnificent property?
First off, thank you to friend and wine lover Michael Lux, for introducing me to the marvel of Clos Saint Jacques 2002 over dinner a few years ago. I immediately fell in love, and understood what all the fuss has been about. And many thanks to Frédéric Robert  for the warm welcome and guided tasting at the property, which included two magnificent surprises…
2012s (reds) 
Gevrey Chambertin Lavaux Saint Jacques: Very pure, deep and long. I really loved the precision in this sample, a wine that basically delivered its flavor pristinely throughout your senses. What a way to start!
Gevrey Chambertin Les Cazetieres: Sweeter nose at this stage compared to the above. But I prefer Lavaux, as it seems more precise, more pure – and more intense. But this one has substance, make no mistake.
Ruchottes Chambertin: About 25% new oak. For some reason, I did not take notes here. But I remember liking this very much, too.
Gevrey Chambertin Clos Saint Jacques: Armand Rousseau owns 2.2 out of the 6.7 hectares of this famous premier cru. The estate has no interest in seeing a formal promotion to grand cru. 70% new oak. This came across as more "manly" with a structure more than anything showing at this early stage. Serious – with plenty of depth and palate "weight". Then we tried a sample from another barrel called "Rousseau" (nothing to do with the family). The effect was juicier but not quite as "serious" as the previous sample. Jane Anson had arrived by this time and she preferred the first barrel. I appreciated both for different reasons. I think they will make a great wine in any case.
Chambertin Clos de Beze*: Wow. I am sorry that such simple language is being used here, but wow sums this up. Superb lift, floral aspects, but rich and deep. The vineyard they have at Clos de Beze has a richer soil, so they tend to pick their grapes here early. The general order, said Frederic (pictured with me, above), is: (1) Village wine, (2) Charmes Chambertin, (3) Clos de Beze, (4) Clos Saint Jacques, (5) Chambertin and (6) Lavaux
Chambertin**: Remember the line from Spinal Tap? This wine goes to 11. Very mineral, saline, rich, pearl like grain, silk enrobed structure. Coming from 2.55 hectares the domain owns out of the 13 hectares of Chambertin. We tried two samples. The first came from a barrel with staves that had been dried for two years. The second, from staves that had been dried for three. The second sample was perhaps a bit more opulent but not as interesting, not as saline or "mineral". I preferred – like most in the group – the first sample.
Then Robert came two supremely memorable surprises…
Mystery bottle number one (which Jane guessed correctly!): Floral, licorice, deep and bright cherry notes, then subtle spice and richness on the palate, a sap-filled glorious palate feel, superb length. Everyone started talking about the caudalies (French term for the seconds of finish – and there were many of them). I have never described a wine as 100 points, but this is certainly a candidate for that impossible moniker. And it was … drum roll please … the Chambertin Clos de Beze 2010***. WOW! And I must say that of ALL the wines I had tried in the three days in Burgundy, this was very likely the wine of the entire visit.
But the party was not over yet. Robert came back with another bottle, which was of a deeper tone, more evidently opulent and spicy – notes of clove – and with excellent length. But most of us preferred the first bottle, because it had superior lift on the finish. Robert also professed to preferring the preceding wine. Still, this one was not at all a let down … Indeed, we are splitting hairs because this wine exuded such substance that it will age very well and no doubt gain in complexity over time. Made with 25% whole cluster grapes, it was a mighty fine Chambertin 2009!
Wednesday 29 May: Marquis d'Angerville, Domaine Simon Bize, Louis Jadot, Meo Camuzet
Thursday 30 May: Armand Rousseau, Domaine de l'Arlot, J.F. Mugnier, Bruno Claire
Friday 31 May: Clos des Lambrays, Taupenot Merme, Bonneau du Martray, Thibault Liger-Belair
Tasting and lunch with Jacques Devauges of Domaine de l'Arlot.
Another splendid visit. And a thousand thank yous to Jacques Devauges for inviting Jane and me to lunch, which he prepared himself in the lovely kitchen at the domain – one of the most picturesque in all of Burgundy. Almost like a Bordeaux chateau!
With a magnificent garden and expansive kitchen.
Just two kilometers south of Nuits Saint Georges, the Domaine de l'Arlot has been long associated with the Côte de Nuits. Old archives record the work of Jean-Charles Vienot, owner of vines here at the end of the 18th century in the village of Prémeaux. He constructed the walls around the vines later known as Clos de l'Arlot.
In 1891, wine negociant Jules Belin acquired the domain, later adding the Clos des Forêts Saint-Georges and the Clos du Chapeau, which together created the Domaine de l'Arlot. AXA Millésimes purchased the domaine in 1987, and added to the domain holdings Vosne Romanée Les Suchots 1er Cru and Romanée Saint Vivant, Grand Cru.
I was there in November 2012 for a tasting of Nuits Saint Georges wines: here the tasting notes.
Devauges took his time to show Jane and me the paltry amount of 2012 produced. Hardest hit in Cote de Nuits was Nuit Saint Georges, about 45% of normal production, because of a 4 July hail storm, because of the diseases in the vineyard the reduced crop potential. More rain in 2012 than in 2011, he said. But the vintages were inversed.
While 2011 started out OK, the bad weather came later. 2012 started out ominously, but there was a late summer than made the vintage more interesting.
2012 – all the wines had a reduced aspect, some stronger than others
Haut Cotes de Nuit Le Mont: About to finish its malolactic fermentation. What I liked about this most was its freshness and saline qualities. The price is going to be low, so a recommended purchase for regular drinking!
Cote de Nuits Clos du Chapeau (Village level): Better here! Very fine richness, with lift on the finish – more complex than the above. There is a viscosity to this wine due to the low yields. Concentration.
Nuits Saint Georges 1er Cru Petits Plets: Structure and spice, fine juiciness, finishes with good lift. About 13.2 alcohol.
Nuits Saint Georges 1er Cru Clos de l'Arlot: Just five barrels in 2012, as opposed to 10 in a normal year. Excellent definition and sap. A successful vintage here.
Nuits Saint Georges 1er Cru Clos de Forets Saint Georges: This is the largest vineyard owned, at 7 hectares. But only 17 hectoliters per hectare in 2012, with less than half normal production (about 35 barrels or so). We first tasted three samples from three distinct parts of the vineyard including one with more limestone rock and one with richer soils. And then Devauges combined the three into a representative sample of what the final blend would resemble most. Made in 2012 with 30% whole clusters. A solid wine, with all the elements needed to age gracefully, balancing richness and acidity very well.
Vosne Romanee 1er Cru Les Suchots. One of my favorite overall wines, if not the favorite, tasted here. Yields of 35 hectoliters per hectare, which is close to normal, because the bad weather of 2012 did not affect this appellation as much (less disease and no hail). Located above the Richebourg grand cru vineyard, cooler, the wine conveyed sexy musk, almost animal, aromatics, with a pure feel on the palate – precise, and juicy. Nice job!
Romanee Saint Vivant Grand Cru: Actually a bit more produced in 2012 than in 2011. And aged in the highest percentage of new oak from this domain (50%). Very cherry driven flavors, black cherry pit for example, opulence on the palate, rich and deep, with a long and subtantial finish.
Over lunch we enjoyed a fabulous and healthy spring salad to counter the annoying weather. The wine was a very smooth and almond like 2007 Nuits Saint Georges La Gerbotte that was far from any note of premature oxidation, just right.
Then with the grilled duck breast, my goodness was that delicious, with eggplant slices, a charming 2007 Clos de la Foret, which exuded some stewed cherry flavors perfectly accentuating the flavorful duck.
Devauges is a great chef. He reduced the sauce for the duck, which consisted of honey, blood oranges, Xeres vinegar, chicken bouillon… It took four hours to reduce, and it was eating heaven.
Wednesday 29 May: Marquis d'Angerville, Domaine Simon Bize, Louis Jadot, Meo Camuzet
Thursday 30 May: Armand Rousseau, Domaine de l'Arlot, J.F. Mugnier, Bruno Claire
Friday 31 May: Clos des Lambrays, Taupenot Merme, Bonneau du Martray, Thibault Liger-Belair
At Jacques Frederic Mugnier with Frederic Mugnier
This was my third visit here and we began a conversation about treatments in vineyards, the weather, the implications of organic viticulture and more, before going to taste. Mugnier spoke about the questionable long-term effect of using copper treatments in vineyards because the copper accumulates. It is used by all, including biodynamic winemakers, because few other options exist. Like Méo and others, he treated his vineyards to prevent spread of shattering.
"It will be a later harvest than normal because we are four to five weeks late already," he said of the vineyard cycle in 2013.  In 2012, he also confirmed the reduced quantity of Nuit Saint Georges wines, as his monopole vineyard Clos de la Marechale normally results in 150 barrels. In 2012, just 65.
We tasted 2011s. Mugnier called the vintage good, but not among the "greats". He chaptalized a bit – almost, he said, as an "after thought", now wondering if he really needed to, he remarked. Still 2011 counts among the lowest alcohol vintages in recent years.
Chambolle Musigny: Very fine, refined, soft overall, elegant and subtle cherry notes. Jane and I were off to a magnificent tasting… For Mugnier, the ladybug problem was not as bad in 2011 as it was in 2004.
Clos de la Marechale: Musk and cherry. Mouth filling style, more robust but not as silky fine as the above. For Frederic 2011 is velvet while 2010 is silk. In the family since 1902.
Chambolle Musigny Les Fuees: Pretty nose. Very subtle aromatics. The palate is more firm. Finishing on a floral, dew like note. Not sumptuous but exceedingly pretty.
Bonnes Mares: Subtle notes of chocolate but of such finesse. The palate is juicy. Not as complex as the previous three vintages, at least from memory. There is elegance here, and refinement and substance for aging.
Chambolle Musigny Les Amoureuses: Deep violet and strawberry flavors, with a certain smoky aspect. He prefers the 2008 vintage as more "Cisterian". While 2011 may have more body, 2008 has more spirit, he said. And 2010 is a good mix.
Musigny*: What I noticed here was a tremendous mentholated freshness as well as altogether unique palate substance that overshadowed the previous wines. To be expected but always so amazing to experience. Supreme.
Clos de la Marechale 2010: While I liked this, at this stage it was coming across just slightly burly, prompting my question, "How much alcohol" and he replied "about 13% natural alcohol." A good wine, but perhaps needs to settle a bit before the drinking window truly begins.
Bonnes Mares 2008: He brought this bottle without saying what it was. I guessed Les Amoureuses but it turned out to be the lovely 08 Bonnes Mares! Very pure, very subtle in its opulence. What a great bottle of wine! Naysayers of 2008 take note. I am lucky to have two bottles of this…
Wednesday 29 May: Marquis d'Angerville, Domaine Simon Bize, Louis Jadot, Meo Camuzet
Thursday 30 May: Armand Rousseau, Domaine de l'Arlot, J.F. Mugnier, Bruno Claire
Friday 31 May: Clos des Lambrays, Taupenot Merme, Bonneau du Martray, Thibault Liger-Belair
At Bruno Claire in Marsannay with Philippe Brun and Bruno Claire. What charm, when Jane asked Claire where he was born, and he pointed to the second floor window: "There, in that room". Not often you encounter such scenes in other wine regions… He is the son of Bernard Clair (1920-2005) and grandson of Joseph Clair (1889-1971), who had founded Domaine Clair-Daü in Marsannay in 1919.
Family disagreements led to dismantling Domain Clair-Daü in 1985, but in 1986, Bruno was entrusted with the vineyards of his parents, brothers and sisters which included those of Clos de Bèze, Cazetiers, Clos St-Jacques, Vosne-Romanée, Clos du Fonteny and Chambolle-Musigny.
Corton-Charlemagne, Pernand-Vergelesses and Aloxe-Corton were added in 1993 and Gevrey-Chambertin Petite Chapelle was added in 1996 to bring the size of the domaine to more than 23 hectares (56.8326 acres).
Bruno Clair cultivates, harvests and bottles his wines with the assistance of André Geoffroy and Philippe Brun, who guided us through our tasting.
2011s: Overall positive impression with the wines
Marsannay Les Vaudenelles: Frank and fruity, red fruit. Made from 30 year old vines. Lovely.
Marsannay Les Grasses Tetes: Older vines, 50 year old, and my favorite of the three Marsannays. Deep and dark red fruit aspects. With a touch of spice. Aged in 20 percent new oak.
Marsannay Les Longeroies: Candidate for premier cru status. Made from over 80 year old vines. Much depth but a bit closed in. I prefer the previous wine.
Morey Saint Denis En Rue de la Vergy: Spicy nutmeg aspects, with dark cherry and more structure on the palate – superior to all preceding wines.
Chambolle Musigny Les Veroilles: Light on its feet with a lovely perfumed nose, not quite as impressive as the Mugnier villages sample.
Vosne Romanee Les Champes Perdrix: My first true "wow" wine of the series. I gave it three stars, whatever that means. Made from 80-year-old vines, I just remember really liking this one.
Savigny Les Beaune 1er Cru La Dominode: Interesting tasting order, as Philippe wanted to point out that Savigny Les Beaune wines can match depth of Cote de Nuits. I liked this but not as impressed as with the above. It showed much firmness and less succulence.
Gevrey Chambertin 1er Cru Clos du Fonteny: Located near Ruchottes. Here, two stars, I liked this quite a bit as a spicy and savory wine.
Gevrey Chambertin 1er Cru Petite Chapelle: Seemed to convey more freshness, lots of limestone in the soil even if on a lower slope. Again, two stars.
Gevrey Chambertin 1er Cru Cazetiers: I really liked this one, three stars. Very rich yet so precise. Fine tannic grain. Cherry notes. Low acidity also because of the relatively precocious soils (marno-calcaire).
Gevrey Chambertin Clos Saint Jacques: This seems to have the most cohesion, completeness – like a sphere. Very expressive and charming as well. Great stuff.
Chambertin Clos de Beze: I stressed "great aromatics" while also showing more depth and structure. Closed at this stage.
Bonnes Mares Grand Cru (on the Morey Saint Denis side): Just next to Clos de Tart. Three stars and underlined…. Very rich and impressive and sublime intensity. Excellent. Not reaching the heights of Armand Rousseau but this was the 2011 vintage… it should be stressed.
Wednesday 29 May: Marquis d'Angerville, Domaine Simon Bize, Louis Jadot, Meo Camuzet
Thursday 30 May: Armand Rousseau, Domaine de l'Arlot, J.F. Mugnier, Bruno Claire
Friday 31 May: Clos des Lambrays, Taupenot Merme, Bonneau du Martray, Thibault Liger-Belair
I was feeling better by day three, Friday 31 May… which began with a visit at one of my favorite properties in Burgundy.
Under management by Thierry Brouhin, who is full of energy and very forthright about things in general. He was not too happy with the weather either, but said that it is far too early to cast any judgments. Still, he seemed startled with news that it was 8 degrees Celsius in Chateauneuf du Pape, a friend told him.
Like other vintners, he was unhappy with the near yellow color of the vines, for lack of sunlight, lack of photosynthesis, retarding the growth cycle by at least three weeks and bringing on the risk of full blown shattering. "This is the least amount of sun we have had in the last 60 years," he said. "It has been really awful for potato growers." Driving Jane and myself up to the top of the vineyard, he pointed to the cherry tree in the vineyard, indicating dropped cherries: a precursor to shattering.
The fine drainage capacity of the Clos terroir permitted use of horse (and tractor) to treat.
And he spoke about the need to use insecticides in 2013 in the video below:
Brouhin also spoke about how there have been offers to purchase the property between 85 and 100m euros. It was last purchased by a German couple from Koblenz in 1996 for the equivalent of 15m euros, Brouhin said. He worries now that it could be sold (Madam Freund is a widow today) and that if so, the grand cru could be broken up.
Driving Jane and me to neighbor Domaine Ponsot, we saw the undulating slope of the Clos's 8.8 hectares, which may be the largest grand cru under single ownership, if not among the largest. Three microclimates make up this great terroir, with heavier clay soil at the bottom, the mid slope having the best exposure to the sun (Les Larrets) and Les Bouchots at the top, quite cool and exposed to more air. Indeed, in spite of the rain, the soil seemed rather dry up at the top, and Brouhin pointed out tractor marks.
Brouhin has directed the domain since 1979. First hired by the Saier brothers, Fabien and Louis, then staying on when the Freund family arrived in the mid 1990s.
Were there ladybugs in 2011? "En pagaille," he said. French for "lots of them." He confirmed that the "gout de coccinelle" is unattractive and may have contributed to the 2004 vintage character. He bought a special vibrating sorting machine to get rid of them at the sorting tables.
White 2012
The owners also have two premier crus in Puligny-Montrachet, Clos du Cailleret and Les Folatieres, but in 2012 hail cut the yield savagely, with Brouin producing just three barrels instead of the usual 16.
So he mixed us a single glass sample, mixing Caillerets and Folatieres. The white was very good, with mineral aspects, rich yet balanced by acidity. Floral aromatics. Fine mineral stoniness about this. I poured back my mix into the Folatieres barrel… Not much of this, so not sure who will actually be able to drink it.
Reds 2012 and 2011
2012 reds
One of the best experiences I had was tasting the 2012 Premier Cru Les Loups. The nose was rather opulent, and the palate follows through very nicely. Brouhin likes to allow malolactic to occur naturally – earlier – and then racks the wine immediately afterwards to maintain the finer lees but eliminate the bigger particles. "I never seek to prolong malolactic fermentation," he said. "I prefer to let nature take its course."
Clos des Lambrays. In the photo it seems that the production is normal, but in fact the barrels on both sides closest to the walls are empty… He mixed a sample from a new barrel and one from a one-year old barrel. There is greater depth and a finer texture to this wine, black fruit, musk, very opulent yet also precise. I really liked the 2012 but for some reason I was not as immediately impressed as I was with the 2010 when tasted from barrel, and which remains one of my fondest barrel tasting memories at this estate. The wine has about 13.5% alcohol and a pH of 3.60. The yields, said Brouhin, were along the order of 15 hectoliters per hectare.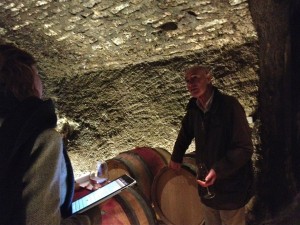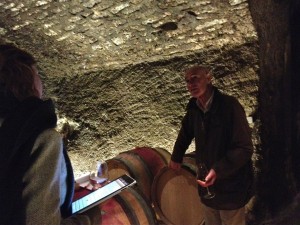 Clos des Lambrays 2011 (bottled in early March): Musky aroma, very fine on the palate, tannins are a bit foreboding although I did get a touch of vegetal.
We ended things with a magnificent tasting of Puligny Montrachet Les Folatieres 2006 from magnum. The vintage is known for some rather flaccid wines, but coming from magnum, the wine was really lovely: rich but decent energy. Brouhin had some earlier that day with escargots he said… And we were getting hungry!
Wednesday 29 May: Marquis d'Angerville, Domaine Simon Bize, Louis Jadot, Meo Camuzet
Thursday 30 May: Armand Rousseau, Domaine de l'Arlot, J.F. Mugnier, Bruno Claire
Friday 31 May: Clos des Lambrays, Taupenot Merme, Bonneau du Martray, Thibault Liger-Belair
Our next visit was with Virginie Taupenot Daniel of Domaine Taupenot-Merme, just next door. Clos des Lambrays would be a monopole if it were not for a tiny bit of land that is owned by Taupenot Merme, planted with vines since 1974, which produce just under a barrel per year!
This was my second visit to this fine 13 hectare property, which I had discovered thanks to fellow taster and friend Mike Grammer, and which covers varied appellations although based in Morey Saint Denis, just next door to Clos des Lambrays. I had also organized a master class vertical for Taupenot_Daniel at the Merano Wine Festival in November 2012, where participants tasted a double vertical of 2005, 2006, 2007, 2008 and 2010 Mazoyeres Chambertin and Charmes Chambertin. Not many domains actually differentiate between Mazoyeres (which could be called Charmes) and Charmes. The 2005s were the most impressive at that tasting, with the 2010s showing the best potential, and the 2008s great finesse. Up to 80% of their wines are sold outside of France with market development around the world.
Visiting with Jane, we tasted 2011s. Taupenot-Daniel also confirmed the presence of ladybugs… "There were quite a few and you needed to eliminate them." Interestingly, she said that they also were quite present in the 2005 vintage!
2011s
Saint Romain: Had been bottled in February, made from almost one hectare of vines on fine limestone near surface of the clay. Very friendly, fruit driven for an Old World wine, with underlying structure and tannin.
Gevrey Chambertin; Hmmm. Here I got a distinct note of green and Taupenot-Daniel actually indicated that this village was particularly hit by the bugs. Interesting. "More so here," she said, indicating that wine.
Chambolle Musigny 1er Cru La Combe d'Orveau, made from just under half an hectare of vines, the vineyard just above Musigny grand cru. Very aromatic, pleasingly so, with underlying structure.
Morey Saint Denis 1er Cru La Riotte: This was almost better, in that the succulence was more noticeable, juicier, with full body and fine tannic grain and a touch of cinnamon. Not more than 40% new oak, if I recall correctly.
Corton Le Rognet Grand Cru: Under the property since 2005, from about .4 hectares of vine. Softer than the others on the attack, which was perhaps to be expected. Fresh and tonic initially through to the mid palate, but then a touch firm on the finish. Floral aromatics appeal throughout.
Charmes Chambertin Grand Cru: A bit reduced here, with underlying strength overshadowing this wine's typical, well, charm. But it unfolds nicely in a multilayered texture for the palate.
Mazoyeres Chambertin Grand Cru: Typically deeper in color than the Charmes, in bottle separately as Mazoyeres since 2000, with older vines yielding more weight. But it was more open than the Charmes, with more evident aromatic charm and pure fruit, very rich on the layered palate, although I think it lacks the focus of vintages like 2005 or 2010.
Saint Romain (white) Coming from 1.5 hectares of Chardonnay vines. This was quite thirst quenching and delicious. Sprightly! I liked the balance of fat and acidity. A fine success for the appellation although at 20 euros retail, I wonder if it may be too pricey.
Auxey-Duresses (white) This is rounder, and seems to indicate a lack of adequate acidity for me. Not as energetic as the Saint Romain, albeit a tasty white.
A fine lunchtime at Le Castel De Très Girard, where Taupenot Daniel generously invited Jane and me. I brought one of the very best wines over the three-day visit, and it was not from Burgundy: the inimitable Comtes de Champagne Taittinger 2002*. What body, what energy, what incredible length and focus of flavor.
Just great bubbles!
Wednesday 29 May: Marquis d'Angerville, Domaine Simon Bize, Louis Jadot, Meo Camuzet
Thursday 30 May: Armand Rousseau, Domaine de l'Arlot, J.F. Mugnier, Bruno Claire
Friday 31 May: Clos des Lambrays, Taupenot Merme, Bonneau du Martray, Thibault Liger-Belair
At Bonneau du Martray with owner Jean Charles le Bault de la Moriniere. A man of elegance and taste, for some reason reminding me of the Kinks song A Well Respected Man. In any case, his wines count among the best whites from Burgundy, period. Although he had had problems in the mid 1990s, he told me during my last visit, with premature oxidation.
You can read about that HERE.
The wines we tried with Jane – a lovely vertical of 2007, 2008, 2009, 2010 and 2011 – were all good to superb. Let's start with superb: the Bonneau du Martray Corton Charlemagne 2010… Excellent balance of opulence and verve, tension. Freshness and stony minerals, fruit and fine palate texture, not to mention a long finish. No wine to sell, he said. Could have seen that coming. It basically proved my initial impression last year, HERE. Now the Bonneau du Martray Corton Charlemagne 2011 was also pretty good, with a nice balance but not as much energy on the palate and just a bit warm on the finish, by comparison. It was not too far away from the Bonneau du Martray Corton Charlemagne 2009, which was perhaps the roundest of them all, and spicier, and quite fine, too. Perhaps just a touch of warmth on the finish. My second favorite was – no surprise here – the Bonneau du Martray Corton Charlemagne 2008. It seemed quite reduced actually – a good sign for those (and there are many) fearful of premature oxidation. The acidity was present but not biting. Perhaps not as full bodied as the 2010. But nonetheless, aging architecture seems well in place. For current drinking, it is hard to beat the Bonneau du Martray Corton Charlemagne 2007, which displays a complex panoply of pinecone, spices, white apricot, and pear. Somewhat sweet on the nose, but never indicating a wine that is evolving too quickly. In fact, I thought of lobster immediately for this wine. And I am glad I own three bottles. Perhaps time to open one up for a summer lobster meal?
Finally – and risking missing Jane's plane to get back to Bordeaux – we tried a Bonneau du Martray Corton 2011 (red). Just bottled, it exuded fine freshness and spice with a silky texture. Lovely.
After dropping Jane off at the Dijon airport, I drove back to pick up three bottles of Faiveley Clos des Corton 2010 I had ordered, and then a final appointment with Thibault Liger Belair of Domaine Thibault Liger Belair in Nuits Saint Georges. Thibault is a driving force to get Les Saint Georges recognized as a grand cru… I spoke to him about that for a news story in decanter.com before we tasted some 2011s.
Thibault Liger Belair, who is cousin to Vicomte Liger-Belair of Vosne Romanee, took over an old family property in Nuits-St-Georges in 2001 and has since built a sterling reputation for making great wines. I had visited his property for the first time in November last year (photo from that November visit) and you can read tasting notes from that visit HERE.
He pointed out that the quality of his Les Saint Georges is such that it is tasted usually after the grand cru Charmes Chambertin and sometimes after Clos Vougeot, although he always ends his tastings with his Richebourg Grand Cru.
The 2011s I tried were all pretty good, and I did not get any green streaks. The Les Saint Georges 1er Cru was opulent and serious, aged in 40% new oak, that is always very slowly toasted from forests that Thibault selects himself. The Clos Vougeot showed greater finesse however, while the Charmes Chambertin seemed the lightest of the three, but not without finesse. All three were admittedly overshadowed by the greater depth and freshness coming from the Richebourg Grand Cru, coming from just over half an hectare of vines.
Thibault Liger Belair had two bottles that had been opened that morning. The better one turned out to be the NSG Les Saint Georges 2006, displaying subtle intensity, fresh leafy earth and a fine finish. Drinkable today to be sure. The NSG La Charmotte 2003 was rich and juicy, but gamey and meaty and well on its way, and somewhat drying on the finish. Rather 2003 like, in that sense.
All in all, a great visit to Burgundy that convinced me once again how magical this French region is, just how driven by terroir and how exciting for wine lovers of purity, precision and freshness.
For previous Burgundy reports, please click here.
Wednesday 29 May: Marquis d'Angerville, Domaine Simon Bize, Louis Jadot, Meo Camuzet
Thursday 30 May: Armand Rousseau, Domaine de l'Arlot, J.F. Mugnier, Bruno Claire
Friday 31 May: Clos des Lambrays, Taupenot Merme, Bonneau du Martray, Thibault Liger-Belair