Burgundian elegance: mostly 2009s, tasted in early December 2010
December 21, 2010
Notes on Burgundy: 2009 mostly, with some 2008s and '2010s'
Recently blogged on Harpers Wine & Spirits
Christmastime 2010 is here. A time of holiday cheer. But what warms my wine heart most is reflection over four days of visits in Burgundy earlier this month. In spite of the fact that almost every day was cold and rainy – the tastings in many cellars even colder, to retard malolactic fermentation.
Acids were high in 2010, prompting some to compare the vintage to 2008, but, overall, the impression is that the reds will be riper, with more body. Even more exciting were the 2009 samples I tasted from a variety of estates, from Domain Dujac and Bouchard Pere & Fils to Georges Roumier and Louis Jadot.
Over the last three years, I have been concentrating on Burgundy. With tastings in the US (with friendly Washington D.C. winos, among them Burgundy experts Howard Cooper and Maureen Nelson); press visits to Burgundy organized by Master of Wine Richard Bampfield; Decanter tastings in London and – most important – visits to Burgundy like this one, I have been cultivating my interest and knowledge. The December 2010 visit was perhaps my eighth to Burgundy in the last five years, to prepare a January 2011 article in Harpers Wine & Spirit. It just further convinced me that the best wines produced here – and many lesser known (and less expensive) ones – offer subtle freshness, finesse and superb body in one glass, characteristics seldom found elsewhere for Pinot Noir and for Chardonnay. A sense of elegance that makes subtle seeking palates salivate.
In short, lovers of elegance and finesse need go no further. For readers, it is clear: I am in love. The taste of Musigny at Georges Roumier, at Jacques Frederic Mugnier and at Louis Jadot echoes still, crystal clear. But so does the taste of Clos Vougeot and various whites at Bouchard Pere & Fils, Gevrey Chambertin Clos St Jacques, Echezeaux and Puligny Montrachet Les Folatieres at Louis Jadot. Many others too, from a great Grand Rue to more humble yet exciting wines at Simon Bize and Pierre Boisson.
Tasting notes below, divided in easily-referenced sections.
Wines in bold I liked; wines in red and bold I loved. When underlined, too, nothing less than a state of grace…
December 6 : Domaine Dujac / Clos des Lambrays / Domaine Francois Lamarche / Bernard and Pierre Boisson
December 7: Jacques Frederic Mugnier / Georges Roumier / Jacques Prieur
December 8: Simone Bize / Clos de Tart / Bouchard Pere & Fils
December 9: Louis Jadot
Domaine Dujac on a rainy, muddy, cold 6 December. My birthday. The rain never stopped. I had met Jeremy Seysses, the son of owner Jacques, two years before. The lovely domain has 18 appellations in red and three in white. This time, Jacques spoke about 2009 and 2010. 2009 was a simpler vintage to harvest:  better weather. But estates like Domaine Dujac, which are careful to select grapes (in 2010, 30% less than average) will make excellent wine. In 2010, poor fruit set reduced yields and retarded the harvest, which began on 27 September at Domaine Dujac: 15 days after the start of the 2009 harvest.
Jacques Seyss welcomed me in his study, with comfortable couches and a cuddly cat. Did he seem just a bit uneasy at first, when I said I was writing an article for Harpers Wine & Spirit: 'Oh no, a journalist,' he was thinking perhaps. But over time, he seemed to get more at ease, as we went down to the cold cellars – colder for barrels with 2010. The first thing about the vintage was the coulure which limited yields. He said that 2010 will not favor south or north of Cote de Nuits. 'It's always the same,' he said, but 'there was more selection needed in 2010 than in 2009.' They experienced many changes in temperature and climate in August, with both humidity and sun. In 2009, there was more than the average harvest:  15 to 20% more, while at least 30% less than average in 2010. We spoke about 2009 and 2005: 'I think 2005 is a great vintage, but not my style,' he said. 'I prefer charm and elegance over muscular beauty. 2006 is Marcello Mastroianni, he said, while 2005 is Arnold Schwarzenegger. Still, 2005 is a general success, more so than 2006, but 2006 is his preference. As for 2009, he likes it 'as much at least as 2006; it has a lot of qualities found in 1999; it is complete and long, like the 1999.' Interestingly, Jacques Lardiere of Louis Jadot also seems to be more enthusiastic about 2009, as we you can read further down. As for the 2010: 'The wine is not ready yet, but it pleases me very much. It corresponds to our vision of wine. I do not like wines that are extracted or tannic. I like the silkiness of the tannins.'
The wines 2009
Juggling my mini laptop with a glass in the cellar was not as easy as noting things down on paper – I often propped it on a barrel – but very convenient to get impressions on the website more quickly.  It was interesting to see how vintners marked barrels from which samples were taken so that they would be topped up. At Dujac, Jacques placed some pebbles on top of such barrels, while others used chalk.
Morey St Denis (Villages). Fine fluid, a bit monotone, but very nicely aromatic.
Gevrey Chambertin Les Combottes Premier Cru. More structure and more perfume: lovely cherry aspect. Of the first three, I liked this most.  Look out for this one.
Vosne Romanee Premier Cru  Les Malconsorts. Deeper nose, more violet.  Less structure here, perhaps, but more charming with much finesse. Lovely wine, but I think I prefer the Gevrey Chambertin above.
Clos St Denis Grand Cru. Sap-filled, elegant, beautiful, floral. Now this lends credence to what Jacques Lardiere said concerning the elegance of Morey St. Denis… going against the cliché. Only 6.5 hectares total and Dujac has 1.5 hectares of this appellation in Morey St Denis. LOVELY!
Clos de la Roche Grand Cru. More masculine and serious, here a real earthiness, but with licorice and dark fruit. Not as seductive as the above: will need more time.
At this point, Diane, wife of Jeremy and an enologist for the estate, walks by as we enter the cold room with 2010 barrels. She is American and had studied at the University of California, Davis. She said that natural acidities were higher in 2010 than in 2009. Cooler weather in 2010. Unlike some estates, Domaine Dujac has no qualms about chaptalizing – adding sugar – although much less today than 10 or 15 years ago. Some chaptalization for 2010. But also a bit last year, Jacques said.
This early taste at 2010 barrel samples, before malolactic fermentation, was not an easy task, but one could detect the wine's structure. 'This is a [Christophe] Roumier technique,' Jacques said.  Bring malo later. If it occurs too early, it is brutal. Later means it is softer, and better for the wine: better color and more balanced. Also, malo plus tard allows for later lees aging.
2010 samples
Vosne Romanee Les Malconsorts: very raw, but lovely.
Clos St Denis Grand Cru: This seems to show superior body, with lovely spice.
Clos de la Roche Grand Cru: Notes of licorice. A bit bigger, with excellent sap. I almost prefer it to the Clos St Denis in 2010.
This was the fourth time I visited Thierry Brouhin at Clos des Lambrays, a beautiful estate located just next to Clos de Tart. You could not encounter two more different wines. While Clos de Tart is made from grapes harvested late, Clos des Lambrays is made systematically from early harvests. Both are careful in their selections. Comparing the two estates illustrates how the winemaker can convey similar Burgundian terroirs, in this case two contiguous estates with similar soils and exposures – and of course the same Pinot Noir grape – making two very different wines. Of course, other factors exist: type of Pinot Noir clones, work in the vineyard, fermenting with stems (at Clos des Lambrays it is almost 100% with stems), and more. Work in the vineyard is near organic, said Brouhin, who uses no pesticides or herbicides. Part of the vineyard is worked by horse. He does not like high alcohol levels and rarely chaptalizes. A vintage like 2003 proved advantageous to Clos des Lambrays, as it retains fine freshness (even though he acidified a bit!), with nary a trace of the raisin/fig aromas one gets from many 2003. I got some from the Clos de Tart 2003 I tried two days later, for example. Thierry Brouhin is a very nice person. I have gotten to know him a bit and, on this visit, I told him it was my birthday… and he gave me a bottle of the 2005, which is delicious. Last year, I had tasted it along with the 2006 and 2007, and it was a clear winner.
Clos des Lambrays 2009 In Burgundy, the general appellation of Morey St Denis was hardest hit by hail. Clos des Lambrays was the hardest hit of all estates in the appellation, Brouhin said: a 20% drop in volume. Brouhin finds 2005 superior, because 2009 is almost too ready to drink today, he explained. He predicted this in November 2009. Picking for the 2009 vintage began on 12-13 September.  Deep in the cellar, he mixed wines from various barrels to mirror what would be the final blend. The mix exhibited very dark fruit, with cassis-like richness expressed as spiced perfume. Fine structure, good texture and a long finish. I have no problems with 2009, Brouhin joked.
INTERESTING: Acids were relatively low, so it was advantageous to use more new oak, he posited. Although Clos de Lambrays generally is aged in about 50% new oak, the 2009 vintage has a bit more.
Clos des Lambrays 2010, a question of picking before the rains…
In 2010, picking began on 20 September. He finished three quarters of his harvest before the rains of 24-25 September.  Brouhin had me taste a barrel sample which showed good sap; a full-bodied aspect. But another sample showed greater vivacity and intensity. The second sample was Clos des Lambrays, picked before the rains. He explained that when rain falls 15 days before the harvest, roots have time to absorb, but any rain during the harvest is not good:  'Pinot Noir is not Cabernet Sauvignon; grey rot could develop easier, because skins are more fragile and grapes can get bloated. In 2010, he said, there is nice balance, with excellent acidity. While it will not be as strong as the 2009, he said that it was saved by low yields: 25 hectoliters per hectare. He also served up a cuvee of the Morey St Denis from a two year old barrel, a one year old barrel and a new barrel. It was very harmonious and smooth, but not nearly as deep as the Clos des Lambrays 2010.
Domaine Francois Lamarche This charming estate resembles a small Bordeaux chateau. The domain produces about 60,000 bottles of wine per year from 14 appellations coming from a bit more than 11 hectares. It is run by women, and 'the articles have already started', said Nathalie, the niece, who deals with marketing, and travels regularly to have the wine tasted in the US, in Japan and in other parts of Europe, she said. Nicole Lamarche, the daughter of Francois, has been making the wines here 2006. Since 2010, they are selling wine in mainland China (possible article here).
Their greatest terroir was only recently named a grand cru: La Grande Rue. So I was looking forward to trying it. Over the last few years, says Nadine, who is sporting black jeans and exudes a rocker look, 'We have been going organic, but we do not want to use the official label… should a major disease attack the vineyard, we want to be free to [revert back] to non organic methods.' The 2010 vintage will be totally organic, she said, with no use of herbicides. 'Seulement bio,' she emphasized. 2010 will mark the first year they do this for all their appellations. Need to ask her when it was that way for the higher level appellations. In 2005?
2010: challenging acidities
There was a winter frost and the flowering was difficult. Millerandage brought about small berries. The problematic flowering retarded the cycle by about 10 days: a 10-day difference in maturity with 2009, she said. In 2009, they began the harvest on 12 September, but in 2010, they began on 24 September and ended on 30 September.  After the rains. Interesting.
She said that they started picking the grands crus to avoid rot. She also noted a 'big problem' with the acidity. 'We need to have balance, and there is too much acidity,' Nicole said. She spoke about needing a 'correction of acidities' and cited some examples: bicarbonate to de-acidify.
She says that 2010 has potential. The only problem is that there is not much quantity. Extraction is not easily done. There is some green, as in 2004, she said. The vintage reminds her a bit of 2004. By contrast, 2009 required less selection. 'We have a risk of premature malolactic fermentation,' she said. We have to be careful not to have a malolactic fermentation that comes too early, which would be less stable for color and tannic balance; we would lose ability to assimilate barrel elements,' she explained. Better to start in February the malolactic. Interestingly for Domaine Lamarche, 2010 entails a risk of a difficult start for malolactic because, she explained, they have too much tartric acid, in the balance between tartric and malic acid. We all have this problem with acidity, she said of Burgundy in general.
NOTEWORTHY: In 2009, they fermented with some stems; in 2010, no stems.
The wines (all 2009)
Bourgogne. To be bottled in January 2011. Agreeable nose: warm, nice freshness. A certain sweetness. Nice job.
Bourgogne Haut Cotes de Nuit. Mineral like wine, from vines grown on stony ground. Sappier than the previous with a bit of pepper. Very nice.
Vosne Romanee Villages. Comes from 5 parcels. 'We want to maintain fruit,' she remarked. 'When we see that the oak takes over, we remove the wines. For villages, about 40% new oak. While 80% new oak for the grands crus; 60% for premier cru. Rich and savory. Pot pourri, pour moi. Fine.
Vosne Romanee Les Chaumes. Precision on the nose. Precise perfume. Cerise. Merise. Ecorce. Noyau de cerise. Delicious. Seek this one out, I recall being really excited about it!
Vosne Romanee Les Suchots. Blueberry. Very elegant nose! More subtle than the above, as much as the above is good. Rich and sappy. Lots of material. But perhaps what Thierry Brouard said? Facile? Wow. I liked this more I think than the Louis Jadot Les Suchots. Seek this one out, too.
Vosne Romanee La Croix Rameau. Barely one hectacre for three owners.  Musc. More strength on the nose. It is an enclave in the Romanee Saint Vivante. Good sap.
Vosne Romanee Les Malconsorts. A parcel near the low end and one near the higher part of the slope. Chocolate and cherry, like a cake: delicious nose and very seductive. Close to 14% alcohol. In 2010, there will be less alcohol, she said.
Nuits St Georges Aux Cras. Mentholated freshness. The palate is not as fine: more rustic, and a bit drying.
Echezeaux Coming from three parcels, this exudes violet and flower, deep and rich. Good structure, too. Here we are near Chambolle Musigny…  Also from a new oak barrel. As these tasting notes will show across many of the various producers, Echezeaux seems to be a particularly successful appellation in 2009. Seek this one out.
Grands Echezeaux. A bit more closed than the Echezeaux. I found it a bit leaner than Echezeaux… but not sure. Odd!
La Grand Rue Grand Cru. This was recognized in 1992 as grand cru. It was a bit forgotten, between Romanee Conti and La Tache. It was the only premier cru surrounded by these other terroirs. 'It has been difficult for us to valorize the terroir,' she said. This is the 5th generation of ownership (from the 18th century) for this terroir of the Lamarche family, which was a 'poisoned' marriage gift. Still, she calls it La Belle Endormie.  Here we have a slightly reduced nose. Very spicy with aeration, it displays fine palate texture, subtle, and very long, showing plenty of sap; one comes away with an impression of strength.
Pierre and Bernard Boisson Vadot Pierre was not there, but father Bernard guided me through the wines. They tend to pick earlier to retain freshness and age the wines longer in barrel. Bernard looks as if he had just come back from a successful hunt. A big man, with a broad beard, and a good sense of humor:  during his Spiel, he asked me how I would rate his speech, and when I suggested 9 out of 10, he said 'Oh come on; that's too high, perhaps 7 or 8?' I told him it was my birthday, and he replied that his birthday was on 8 December… I was half hoping for a price reduction: shameless! But his wines are not too expensive and very good. At €18 each for Grands Charrons Meursault 2008, a fine deal.
In addition to Grands Charrons, wines include Meurseult Chevalier and an Auxey Duresses Premier Cru. They are aged 18-22 months in barrel with 25% new oak maximum. In 2009, early picking was stressed:  'We were the earliest to pick, along with Coche Dury and Comte Lafon – good company, eh?' They started on 16 September and finished on 22 September. It rained on 24 September. 'We do not want to have rich, round wines with little acidity – that is the fashion however. What is Meursault? Is it rich, 14.2 degrees? Or is it tension-filled, with 13 max with a good acidity and mineral crystalin?' he asked rhetorically. Clearly Bernard's response is the latter.
Clos Vougeot. One parcel at the bottom, one at the 'middle' and one near the chateau itself.  I recall trying a very fine 2004 last year. More power, more tannic presence, including a licorice element, and also a bit more austere compared to the Echezeaux.
The wines – all 2008
Bourgogne Blanc. It is a bit sharp. There is quite a bit of acidity. But also some nice tobacco notes.
Meursault Pierre Boisson: Tendu and powerful actually… rather raw profile. Aspect tobacco. Good sap.
Meursault Grands Charrons. This is richer, it has more seve. Herbal aspect. Green tea. Tilleul. Same energy but not as raw. Bernard suggested serving with a rich fish and chorizo… hint of tobacco too. Very nicely done. I bought some of this.
Auxey Duresses Premier Cru. Very gun powder like… but richer on the palate. Finesse. But the previous was the one that I liked the most. Crisp. Fresh. Cumin is present. Interesting.
He mentioned a fantastic cellar in France. Pot d'Etin. L'Isle sur Serein. Dans l'Yonne. Grande cave de vin. 3000 references. Bon prix.
Bernard said that the 2010s are going to be very good. 13° natural alcohol in 2010, he said.
Here I was looking forward to first visit ever at Jacques Frederic Mugnier. The current owner, named Frederic, took time with me in his study/office, explaining how his great grandfather, also called Frederic, founded the domain and had a business selling alcohol. When he bought vines that later became his domain, the price was inexpensive – as the phylloxera epidemic had just struck, in the 1870s. So three generations have lived this heritage: vines in Chambolle and liqour in Dijon. But his father, just after World War II, found himself the only inheritor. He was an only son, and he wanted to leave the business, so he sold the alcohol business and rented the vines to work in finance. 'For 30 years, we did not make wine,' Frederic said.  'But at the end of 1980s, we took back the domain and the vines.'  The Clos de la Marechale in Nuits St Georges came later. Since 1985, the domain is run by Frederic. The contract for the Clos de la Marechale was signed in 2004: at 14 hectares, it is the biggest monopol of the Cote d'Or and lies in the furthest southern part of Nuits St Georges.
2010 as a wine: too early to tell!
We want the malolactic to occur slowly and later, there is a lot of malic acid. Color and volume is lost if this happens too quickly. It is preferable to have slow malo which occurs in springtime. When there is a lot of malic acid, then the malo occurs naturally slowly. The pH is low, so bacteria needs time. There is more malic acid here than tartric acid. I was happy with the grapes because they were healthy with no illness and no rot, he added. And they were ripe. He did not need to chaptalize this year. Even in cold years, we have naturally high levels of sugar, he noted. But in hot years, we have high alcohol. We will make less wine in 2010 than in 2009 he said, echoing everyone else. This was due to uneven flowering, bad weather in June. There was coulure and millerandage. An incomplete fecondation. Not much grapes and small grapes, but bunches were rather uniform. Compared to his average production of about 55,000 bottles, 2009 was a bit higher than average, while 2010 will be 20% less.
2009: 'a great vintage'
A great wine for Frederic is a wine that will last, a wine that investors will seek. 2009 fait parti de grands millesimes, he said. On the other hand, many consumers do not have a good idea of what it is to be a great vintage. For me, such young vintages are not the most agreeable to drink. For a dinner, I would not drink 1999 or 2005 today, he said, but consumers drink these great wines too young. I have no idea which one – 2005 or 2009 – will last longer. Both will last longer than I will, he joked. 2005 has a perfect balance. Nothing comes out oddly. Everything is perfect. '2009 does not have necessarily the same perfect balance [ interesting!],  but  2009 is seductive by its round aspects, very charnu and tres epais.' Dense and rich, he said. In certain cases, a certain suave aspect, un gout de sucre. A bit higher in alcohol here than 2005, he said, again echoing other vintners on the comparison.
On alcohol and sugars… Scoop alert! Concern over Pinot Noir!
I am worried about Pinot Noir in Burgundy, he said. Two factors: Climate change is one factor. Another reason is work in the vineyard. Vines are in better health, and they are worked more precisely, so grapes ripen better. Until recently this has been a rather favorable evolution. But if we continue to have the same evolution, we will fall into another excess: wines that will be overripe. So in the next few years, we may have to change work methods, he posited. Certainly clones that ripen less quickly, for example. We had always selected clones that brought lots of sugar, he said.  'I am the only one to talk like that': interesting. They should work in California. Work methods to change? Not as low yields, leave more grapes on the vine – not less! Not just too much sugar. Also the rhythm of ripeness needs to be slowed down…
No stems used during fermentation. He feels that the aging process is not altered if stems are removed: 'This will not reduce aging ability', he said. But stems may result in periods when the wine is closed, unpredictably, over the midterm and can offer unflattering notes in early years. He uses 15-20% new oak. Bottling is always in May. Two rackings: one after one year, another for bottling. Picking in 2009 started on 10 Sepember with Clos de la Marechale and finished on 17 September.  By contrast, 2010 harvest began on 22 September and lasted about seven days.
Tasting 2009s.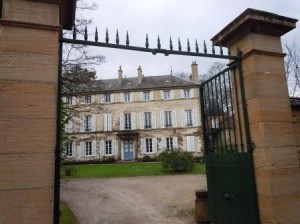 Chambolle Musigny We have about 1.3 hectares and we make about 6000 or 7000 bottles. Peppery fruit, a serious wine with vibrancy. Lots of sap. Coming from two plots of vines. Les Plantes is located  in the southern part of the appellation and the second plot is near Clos Vougeot, Combe d'Orveau, which is a premier cru. Basically, his Villages wine is half premier cru and he prefers the blend: 'It is more interesting.
Chambolle Musigny Les Fuees. A more intense nose, with fine sap on the palate. A very fresh and mineral aspect, tonic on the finish. Coming from an argilo calcaire soil, which is tender, which gives a good limestone aspect in the soil, he said. Rather light soil. Mineral aspect on the palate. It is located next to Bonnes Mares, the northern part of the village. When compared to the southern part – Les Amoureuses and Musigny – the latter are more floral and fruity. Here we have more mineral tendency. We have a bit of a Morey character, he remarked, which is more earthy. Fuees is terrien, then, while Amoureuses is aerien. Very elegant in its earthiness, this Fuees! But soft, with excellen sap. Good palate texture. A strawberry aspect, too. Fine tannic edge. Superb!
Bonnes Mares Grand Cru. Rather closed, coming from vines between Morey and Chambolle. He has 35 ares. But he took wine from another barrel which was more expressive. First barrel has been opened a lot, so the wine was a tired. The second sample packs more punch, with licorice notes, very intense.
Clos de la Marechale. Not sure we followed this order. More fruit on the nose, yes, and perhaps more immediately appealing, but not as fine on the palate. It displays excellent sap and heft at 14 degrees, with mentholated cherry and licorice. They have gained in freshness, Frederic remarked, generally of the 2009s. He had found them a bit too rich about six months ago.
Note on organic winemaking:
'I am totally against biodynamie,' he said. 'Some are honest who do it, but many are ridiculous.'  He noted the marketing aspect of organic wine, which means everything and nothing. He spoke about 'authorized pesticides' for example. 'I am very close to bio, but some treatments are done for mildieu for example.' I do not want to use only copper against it. It is a limited tool, and it can get be toxic for the soils if overused. It sticks to the soil, does not threaten water table. Biodynamic is simplistic. Last time I used insecticide was in 1995. But in biodynamie, some insecticides are authorized, he said… odd. He chooses sexual confusion to fight against worms that put holes in vines. Not authorized insecticides.
Chambolle Musigny Les Amoureuses. Very strict, tight now. A nice juicy middle palate and finish that has lift and richness. The attack is a bit tight. This richness is a bit less habitual. So here we have a bit more richness and matiere… Very round, said a friend of his from his pilot days with Air Liberty. This is the character of the vintage: 2005 was 'finer' in profile, he said of the wine tasted at the same time for the 2005 barrel sample. Half a hectare only.
Musigny. Grand Cru. 1.13 hectare. 10.5 hectares total. Racked yesterday. A beautifully expressive nose that got everyone's attention. Very vinous,  multilayered, yet so elegant in its expression
Some 2008s
Clos de la Marechale white. Almond, a bit of white fruit. Some spice. White peach. Good sap.
Chambolle Villages. Very different from 2009. Very good brisk fruit. Good sap, subtle. Would go with sushi, he said.
Clos de la Marechale. Very rich and delicious. Cerise, a bit jam like on the nose, but nice trame on the palate. Fresh and strict. Very nice sap. He thinks that 2008 will last longer than 2007.


Another first ever visit, after having thoroughly enjoyed his Chambolle Musigny 2000 vintage back in 2008 and also his Chambolle Musigny Les Amoureuses 2000, back in 2005, thanks to Michael Lux – Burgundy lover and friend. Christophe Roumier is the grandchild of Georges.  Delphine, one of Christophe's sisters, welcomed us at the main entrance office. The domain is impressive, although not as impressive looking as the beautiful chateau-like house at next door neighbor Mugnier.  Also nearby are other 'Roumier' properties, but not Georges Roumier, which counts 11.8 hectares, two in Morey St Denis. They also have a Ruchottes Chambertin and one blanc in Corton Charlemagne. Most of the vineyards are in Chambolle Musigny. Their famous Amoureuses comes from about 0.39 hectares. Their even more famous Musigny comes from  0,09 hectares: just one barrel and a half. Christophe Roumier is a respected winemaker. He likes to ferment generally with up to about 50% stems, according to the vintage. As at Mugnier, very little new oak.
Chambolle Musigny. Out of barrel three weeks ago. Will be bottled in February. Very immediately fruity. No need to do an elevage too long. Malo finished in July. Good sap. A bit of a smoky aspect on the finish. Quite rich. This, however, is made from grapes with stems removed at 80 percent.
Morey St Denis Clos de Bouissiere. Dark and fruit rich. Resembles the 1990, one taster said. Very cherry pit aspect. Roumier remarked higher alcohol and greater richness than in 2005, but also finer tannins.
Chambolle Musigny Les Combottes. A bit more closed than the preceding wine.
Chambolle Musigny Les Cras. Very nice aroma. More reserved on the palate: delicate and flowery, but also mineral, showing good spine.
Charmes Chambertin Grand Cru. Half with stems in the fermentation, this wine has a lively citrus aspect, actually fresh and subtle.
Ruchottes-Chambertin Grand Cru. Jammy fruit aspect, a delicious nose. Rather cherry pit. Licorice. Mineral. Fine structure. Fluid on the palate but good concentration. Just lovely!
Chambolle Musigny Les Amoureuses Very subtle nose. I penned it as 'floral stones' with the palate displaying subtle spice and fine richness. Subtle is the word. Cashmere like aspect. Can I just say wow? I wish I could afford this…
Bonnes Mares Grand Cru. Beautiful structure. Rich and jammy, too. Some mineral. Very fine, but quite big.
Musigny. A bit of reduction here, but time in glass revealed a multi-layered flower aspect on the nose, very rich and full on the palate. A wine that had more layers than any of the preceding wines… Lovely and exceptional. Deserves a double underline. Only about 440 bottles this year. Made with 100 percent stems!
2008s (and compared to 2010)
Roumier said that 2010 will be riper than 2008. About the same in terms of quantity, less than average… But there is a high level of acidity in 2008, with almost an inexistence of tannins. It reminds him of 2002 or 1980, but 2002 is more complex in flavor. In 2010, you have a higher pH than in 2008… 'They (the 2010s) will be more approachable than the 2008s', he says.
Chambolle Musigny. Very fine, I do notice a crisp aspect here.
Chambolle Musigny Les Cras. Cake aromas, at first chocolate then orange. Nice line of flavor on the palate, precise yet rich! Beautiful wine on the palate. I immediately wanted to buy some, but they have nothing left… A revelation for me at least!
Ruchottes Chambertin. More of a fruit character, more concentration, but subtle. There is just a hint of new leather… but more tannic than the preceding wine.
Chambolle Musigny Les Amoureuses. Initial wet sock aroma that blows off, then the palate is fine, rather silky. But here I get a strict and acid like feel, then good palate presence, rich yet subtle. Lovely texture on the mid palate. I am not sure however about this one! It did not convince me as much as the 2009 did, or, for that matter the 2008 Les Cras.
Morey St Denis Clos de la Boussiere. Subtle strawberry. Very good verve. Elegance.
Corton Charlemagne (white). Very elegant and fresh. Rich but subtle. Lovely wine! White peach and iodine. Wow, yet another wow…
Among the tasters a young wine shop owner in Paris named Gilles, and a very nice person. He owns Verget de la Madeleine and had been a sommelier before.
Nadine Gublin, who has been with the estate since 1990, welcomed us at the estate even though we were almost one hour late. As with many other Burgundians, the welcome is always very warm. Jacques Prieur counts 22 hectares in total, it is family owned and – even though it was dark and ever rainy – we could see some of the members of the family sitting in their classic house next to the cellars. The estate was founded at the end of the 19th century. Frederic Wildman imports Jacques Prieur to the US, along with Olivier Leflaive, Armand Rousseau, Hugel, and Jaboulet: some nice addresses. Nadine said that they are just starting to sell to mainlaind China, already working very well in Hong Kong. In Europe, they have their classic markets in Belgium, Germany, some Italian as well, around Alba. The UK is very important, too. More recent markets include Brazil and Russia. France has gained importance in recent years. 'We were 80% export,' she said. 'Now about 70% export with at least 30% French market. Europe is a bigger market than the US for us.'
Grapes are totally de-stemmed and uncrushed. I did not ask but did she mean whole grapes are put into fermentation? Harvest is done by hand. Gentle per gravity movement.  There are also vibrating sorting tables with 6 to 8 persons. Finally, the grapes travel via a 'tapis' to the vats. Vinification takes place in wooden tanks, closed during the vinification of three weeks (20-25 days) which includes three phases: (1) maceration pre fermentaire a froid; (2) alcoholic fermentation – with the use of indigenous yeasts at 28 to 30°C during which pigeages are carried out instead of pumping over because it is not as brutal for pinot noir, she said; (3) post fermentation maceration at 28°C. She hastened to add that in 2009 they did very little pigeages because extraction was rather easy.
On the 2010 and 2009 vintages
In 2010, longer maceration period: 18-21 days for 2009 but 21 to 25 for 2010. 'Extraction was easier in 2009, it was precocious,' she said. In 2010, it was easy to see that the grapes had what to give, to give only at the end of the maceration. One needed to macerate more in 2010, for color stability, she said. At least 20 days of maceration for structure and color and balance interests. In 2010, as elsewhere, the harvest was much later than 2009: 'We started 21 September for the whites. Reds were started on 26 September. In 2010, a very cold June led to a long flowering. Also, much more acidity than in 2009. In 2009, a generous vintage in every sense of the term, also in quantity and quality, but 2010 is very small. About 30 to 40% less than in 2009. For some vines, just half.
In 2010, then, the grapes needed more time to ripen. 'We had 15 nice days in September 5-6 to 23 September, a key period,' she said. They had small grapes without much pulp, but good health. About the same amount of acidity as in 2008, but the wines will be 'very Pinot, very Burgundian,' she added. Rather fresh. Aromas of fresh fruits. Wines that are small grapes, they will be more structured than 2008.
2009 for the reds: 'This surprises me very much, its evolution. Last year after the harvest, they were rather too gourmand, too easy. Already easy to drink. This is what Thierry Brouhin is saying still today… Very supple and tender. But Nadine said that the cold winter this year, from December to March, was 'very favorable for the aging,' with temperatures descending to about 9°C. The malolactic fermentation did not happen immediately. The wines were positively blocked in their evolution. Malolactic was done in April, May and June for the reds. Wines had the time to exchange what needed to be with oak casks. End of January and June for bottling.
As much as I respect the hard work that went into making these quality wines, I came away feeling that 100% new oak is just too much, no matter how lightly toasted. The appellation differences were not as pronounced at, say, Louis Jadot and certainly not as much as at Georges Roumier or Jacques Frederic Mugnier.
2009s: tasting notes
Beaune Greves 2009. A bit tight, under an oaky aspect, and a bit strict. Where is the fruit?
Beaune Champimont 2009. Coming from clay soils, the nose here is a bit more interesting, and the palate has more sap, more juice to it, but there is austerity.
Volnay Clos les Santenots 2009. Monopol vineyard of almost one hectare. Very ripe red fruit but… again, a bit drying on the palate, new oak aspect. There is smoothness at least on the mid palate. But I can feel the oak.
Corton Bressandes Grand Cru. Masked by the oak, yet again, but more present here, the wine deals with the oak… but I wonder about the wood.
Clos Vougeot. This is the longest aged. 2008 was put in bottle in July this year. Longest aged, in 100% new oak. It was good, concentrated, but, again, effacement of terroir via wood.
Chambertin young vines – Gevrey Chambertin – about 15 years old, and not used in the grand cru bottle. Very juicy. Fruity, here the oak is matched better, but, again, I wonder about it…
Chambertin Grand Cru. Old vines. More subtle, but I still get a sense of oak… there is drying tannin on the finish.
Echezeaux Grand Cru. More sap here, greater freshness here. So far my favorite, with less drying aspect.
Musigy. Velvet like violet. Very deep nose, with licorice.
On the difference between Chambertin and Musigny…
Between the two, Chamebrtin is a colder climate and later, more tardive. Structure of the wines. Musigny has a structure that is very silky and satiny. We do not have the violet and spice in Chambertin. Aerian as well. Chambertin is a wine that has much finesse. For many people, people think that because it is from a cold climate. But it is not carré. Not earthy. For her, it is very fine. But not immediately revealed like Musigny. Musigny is more forward, Chambertin needs more time to reveal itself.  Both are fine. Musigny is more elegant. Chambertin is refined finesse but more serious and discrete. Not exuberant. Musigny is more precocious in its expression.
Whites – 2009
I generally preferred the whites at this estate.
All fermentation, from alcoholic to malolactic, takes place in barrels. She said that that provides for a better integration of the oak. In 2009, no batonnage because acidity was rather low, but it was done in 2007. In 2008, there was acidity but also sugar, so not done. I like the batonnage, only when the wines are naturally clear… When they have carbon or lees, no point to stirring lees, she said. Malo also always happens also in barrels. No racking for both the reds and the whites. The only racking is just two months before the bottling.
Beaune Clos de la Feguine. Monopol. Citrus and pear. Nice grapefruit.
Beaune Champiment Blanc 1er cru. Planted over the Pinot, very rocky soils Mineral aspect on the nose. Iodine rocks. Nice!
Meursault Charmes. Banana? Pineapple, but closed actually. Rich and a bit too sweet for my taste. Prefer the style of Pierre Boisson here.
Meursault Santenots . Smoky, with a bit of green apple, mineral complex. Bon bon anglais. Near Volnay.
Meursault Perrieres. Red apple, crackly. Good energy, with grapefruit. Some stony aspects, but lacks a bit of lift or expected lift?
Puligny Montrachet Les Combettes. Subtle. Nice tension on the finish if smooth and a bit butter like but, for me, overall rather closed, with promise.
Chevalier Montrachet. Silex mineral, freshness yet good substance. Cooler climate perfect for 2009… Lovely wine! Nadine was happy with this, did not need batonnage. The lack of acidity was compensated by the minerality… elevage on lees protecting from oxidation.
Montrachet. Long aging for the 12 barrels: 22 months. Mineral nose, a bit of licorice. Substance on the palate.  A bit of heat? Very much sap here.
Corton Charlemagne. Eastern exposure, cold microclimate. Marnes. Froid. Acacia on the nose. Rather saline on the palate, richness as well.
2007 whites
Beaune Champs Pimont. Mielleux au nez. Miel d'acacia. A bit of butter on the palate, smooth. Lacks a bit of lift? Saline and sap.
Puligny Montrachet Les Combettes. Is the color less golden? More sculpted. More subtle. Does it have a dry raisin freshness, as she said? I do not get dried raisin, but rather a freshness. White pepper on the nose. A bit of quince?
2008 reds
Chambolle Musigny Combe d'Orveau. Une demi piece. 150 bottles. Hint of new oak here. Vif on the palate. Fine acidity. But is there this drying aspect of the new oak? The acidity serves this wine.
Gevrey Chambertin Premier Cru – this includes the jeunes vignes of Chambertin. Another whiff of oak…  There is a bit more thickness on the palate perhaps.
Chambertin Grand Cru – 50 year old vines. A bit more thickness, here we have better integration of the oak, she said. I still get a monolithic aspect. A certain sweetness. A bit more of fresh earth.
Echezeaux. Best nose. Violet flowers. Rich and sweet. Nice acidity but loses punch towards the finish. Compared to Roumier. Very pretty wine. Nice mid palate though. Is Echezeaux the best red from Jacques Prieur?
Musigny. Rich and tasty. Savory. Cinnamon. Not soyeux but satiny, she said. But then come some drying oak-derived tannins, that is too bad!

Simon Bize A rather humble estate in Savigny Les Beaune, established in 1850. Everyone was named Simon except Patrick, the current winemaker/owner.  He has been running operations here since 1978-1980. His father died in 1998. He does not de-stem, except for younger vines. In 2009, whites harvested on 10 September and reds started on 12 September. In 2009, no chaptalization, as natural alcohol was high, at 13.5 in bottles. He prefers to harvest early to preserve freshness. In 2005, by contrast, a bit of chaptalisation, especially to lengthen the fermentations. 
2009 reds
Bourgogne Perrieres. Good sap here, if not magnificent. More mineral than fruit.
Savigny Les Beaune Les Bourgeots. A bit more tender on the nose, white soils, very limestone. Good sap, good energy. A tad austere?
Savigny Les Beaune Aux Grands Liards. Definition here on the nose. Old vines planted in 1939, 1946, 1952, 1956 and 1979. Nice cherry line of fruit. Very rich. Yet suave. GET THIS ONE! A nice tannic austerity on the finish. I liked this one a lot.
Aloxe Corton Le Suchot (en metayage, which means that he is not the owner but vinifies the wine. He keeps 2/3 of the vine and the owner retains 1/3 under his label. For 2/3 of the production, you see 'Simone Bize'). A bit scruffy on the nose, earthy. Iron and earthy. Acidity is noticeable here. Not sure how this will age. Wine for winter and game meat?
1er crus
Savigny Les Beaune 1er Cru Les Serpentieres. 20 percent new oak. Nez a bit more opulent. Quite cherry like, good focus.
Savigny Les Beaune Aux Guettes. Very closed on the nose. A hint of tobacco? Cherry pit. Good sap, a bit austere but I suspect time will tell, firm and tight on the finish.
Savigny Les Beaune Talmettes. Violet and cherry. I enjoyed the 2007 at Cave de la Madeleine but this one is more promising. Lovely richness yet good structure and precision. None of these wines have the polish of the Mugnier or Roumier, but neither do they have the price… Nice!
Savigny Les Marconnets. Malolactic finished in September this year. Still on its lees. This is Savigny Marconnets. Not Beaune. Rather bright fruit passed the CO2… Very fresh aspect. Somewhat tight.
Savigny Les Beaune Les Fournaux. Very violet. Musc and earthy. For him it is like Aloxe Corton, animal. Rich palate yet nicely delineated. Classy earth. SEEK THIS ONE.
Savigny Premier Cru Vergelesses. The nose is a bit troubled by the CO2 and lees aspect. Palate is richer however than preceding wine. More body. Classier, says Patrick.
Latricieres Chambertin. One third of a hectare. Next to Chambertin, very little earth. Very stony. Rather warm climate. Revue Vin de France, did an article on 10 vintages in September. A bit chocolate like with cherry fruit. Brownie. Very nicely structured. Delicious!
2009 whites
The date of the harvest was very important. Red is less precise. They began  on 9 September for the whites. It was very important to harvest early in 2009, he said, for the whites to maintain acidity. In 2010, less worry for the whites for their acidity, but less whites in any case, because the flowering lasted very long and was uneven.
AOC Bourgogne Les Champlains.  Basic white. Good nose. Orange fruit. A bit flabby on the palate. Rich. A bit of clay here. White fruit aspect.
Bourgogne Les Perrieres (same as the red, in terms of location). More mineral like on the nose, which is more subtle. The palate is fine. Nice finish, energy.
Savigny Les Beaune. Richess, nice balance, good wine. Pear and white peach.
Vergelessses 1er Cru. Mineral. Tobacco. More body. Better definition. A bit more richness, is the acidity quite enough for the long? Bottled in September.
Corton Charlemagne. Cote Ouest, just higher than the Christophe Roumier. Old vines, planted in 1935. 20 ares. Mentholated mint, bon bon. Very smooth. Sap. Discrete. Sur col, will be bottled in February.
2008 wines Just opened

Vergelesses

. Candied green apple. Licorice mineral. Very nice line of fruit, great acidity. Iodine freshness. Acidity is crisp, bordering on very strong. Give this time to age… what about premature oxidation? I bought a bottle for €10.
2009 tasting notes
Aux Grands Liards. Good sap. Nice freshness. A sweetness on the nose that is endearing. But there is freshness and energy here. Would go very well with a rare steak. Or perhaps rich duck? Tannins are also present, perhaps a tad austere now? Somewhat raw on the finish. Is this a warm soil? Must be… Seek this out in 2009 for certain.
Les Talmettes 1er Cru. Here we have a more smoky aspect, also raw as in the above. A bit aggressive? Thank heavens for hot vintages for this estate, because I am not sure about these two 2008s. I almost prefer the non premier cru,… it has more warmth in 2008.
General about 2010.
Half as much wine made here. Because of coulure and millerandange. Only 7°C in the cellar to retard malolactic fermentation. Malos in 2009 finished in September 2010. It will be harder to start malolactic in 2010 because there is more malic acid. We will temperate the cellar in May to about 16 degrees, which will probably help to start malolactic fermentation. I see 2010 more like a 1962 or 1991. They were a bit overlooked because of 1990 and 1961. In the sense of how the vintage will be appreciated. Style is like 1978. Low yields and concentrated. Too early to see about 2010. There was more worry for 2010 to fill the tanks to start the fermentation.
Clos de Tart Always a pleasure to visit Clos de Tart. Director Sylvain Pitiot is making "the best wine in Burgundy", former wine critic Pierre Antoine Rovani told me last year. Very different style from neighbor Clos des Lambrays.
I was joined by a group of Chevaliers de Tastevin from the US. Very interesting group, very interesting tasting. We went through a series of barrel samples. The first sample was from young vines – less than 10 years old and 100% de-stemmed – to be used in Clos de Tart, not normally but here they will be in 2009. Not a question of age but quality, Pitiot said. Fine, smooth aspect for the younger vines: Cuvee 8.
Another sample, from Cuvee 5, is cooler, with more substance here, along with CO2.
Cuvee 6 comes from terroir of 2/3 limestone, 1/3 clay. Higher slope location and quite rich here.
Then came three cuvees, one with entire grapes and stems; one 50-50, one without any stems. The reactions were revealing. Except for an older gentleman from New York with no doubt vast experience, many of us were sure that the second had at least some stems… we were wrong. The fruitiest sample had ALL STEMS!  Goes to show what happens when you have ripe stems, remarked French wine critic Bernard Burtschy, when he had me over for dinner on 17 December, and I told him about this experience. On the other hand, Pitiot insisted that it is not just about stem ripeness… Need to study this further!
First sample. Quite a bit of tannin here. Some stems? I think we have stems here. Nice concentration in any case. NO STEMS. But actually this one is 50-50.
Second. Sweeter nose. Very cherry aspect. Pure fruit. Is this no stems? Actually, ALL STEMS!
Third. Very interesting, cake like smell. Here I would say 50-50. Harmonious. There is a tannic austerity on the finish, but the aroma is very sweet and fruit driven. NO STEMS.
Our evolution is to use more stems than before, Pitiot said. For the long term. Whatever the case, Clos de Tart 2009 is very promising, based on these samples.
On 2009, generally, according to Sylvain, nature gave too many grapes, so one had to control the yields. The key to 2009 is keeping yields low, said Pitiot. Alcohol levels were similar: 13.7 is average alcohol for Clos Tart in both 2009 and in 2005.
Clos de Tart 2008. A cooler profile, but I like this. October harvest, late picking for 2008. Maturity. Had to wait for a long time to pick grapes. We were late pickers in 2008, Pitiot said. Date of picking was very important. Stems here? About 35% stems. Slightly green because of stems here, said one taster. Grapes are very ripe. Stem use does not just depend on maturity of stems but 'work on them', Pitiot said. Short-term risk with slight greenish smell of stems, at first, but it is good for aging, Pitiot said. Purity and nice freshness overall – I liked this 2008. It reminded him a bit of the 2001.
Harvest in 2010 reminds him of 2008. High acidity. Late harvest, started 1 October and ended over 10 days… Very careful selection. Lots of malic acid, he said.
Then we tried a mystery bottle, which displayed musc and slight raisin. Muscade and spice. Fat, but also shows spice with rich, very ripe, fruit. Some dried fruit aspects. Yup, it was the Clos de Tart 2003, which I like but it is too much typical of the vintage. Far better is the 2002.

With Philippe Prost. The winemaker, who is among the nicest people I have met in Burgundy. He likes to draw and take photographs. He explained many terroir intricacies with drawings which he gave me. He is humble, too. Last year, he hosted a fabulous dinner which featured 1959 Le Corton and 1961 Corton Charlemagne, after we tasted a series of marvelous 2008s, particularly the whites.
When I arrived, we went to a lovely tasting room and Philippe started to talk about how fine the 2008 is after I told him how much I liked some of the reds and whites I had tried from my visit thus far. He spoke of a 'generous aspect' on the palate. Nice extraction on the palate, but not as flowery as 2007, but nice richness and an excellent acidity. Lots of fruit. Cote de Nuits is a more late ripening area than Cote de Beaune, so 2008 perhaps favored hotter regions, including the reds.
Fifteen days to harvest for 2008, you needed a big window for harvest. We did not have much rot in 2008. Selection was important for people who removed leaves at the bottom of the plant, we saved hygiene. For white as well. Very high level of maturity on white. Bouchard has always had a philosophy to pick just right, never too ripe. White wines in 2008. 2007 is very pure and crystal, but 2008 is very generous. Opulent and rich compared to 2007. 2007 is more like 1999. 2008 is rich but not varietal (not Chardonnay).
For the reds, great state of health, he said. Each parcel, no need to rush. The only urgency was ripeness. We had less acidity than in 2008. Not much malic acidity. After malolactic, the wines stayed fresh. Vif en couleur mais pas en acidity, grand souplesse, ripeness of tannin. What was the big difference with 2005? There was no rain in 2005 all summer. 2005 was a vintage of stress, he said. 2009: no stress. Big difference. 2005, without talking about conentation, a lack of water provoked richness. Small grapes. Lots of alcohol. Acidity was preserved because it was a rather cool year. Much tannin. 2009 is very ripe fruit. Plant was always well fed, more suave than 2005. 2005 is strict, rich but a bit 'Cistercien'. Very beautiful, but not Baroque. 2009 is Baroque. Cote de Nuits on a fresh red fruit. Cote de Beaune, you have round tannins. Cote de Nuits you have very fruit red. Cote de Beaune a bit more fraise cuite. Framboise. Black currant. Cote de Nuits en 2005 was particularly successful. A bit cooler, inclination east which gives greater freshness.
2005 is a great vintage, but one that improves with barrel aging, while 2009 is very beautiful since the first day. And for me, in red, I respect 2005, he said. En Blanc, 2004 and 2008 are vintages that are immediately delicious. Less yeasty. No batonnage here – rolling the barrels.
In 2010. Low volume reported here as well : Clos Vougeot in 2010 was 3 pieces au lieu de 5 pieces!
We started 20 September. Chablis and Beaune all on the same day. Homogenous maturity. We have grapes that had very little rot. Millerandage. We knew that we would not make much wine. About 25% less. Meursault Goutte d'Or 60% less. In 2009, cherries were crackling. When ripe, delicious. Even late ripe, overripe, delicious. In 2010, cherries were good only 7 days. Lots of water in the cherries, diluted and not much acidity, lacking expression. Includng peaches and apricots. Priority is not extraction. We have color and tannin, but priority is fruit expression. In more difficult vintages, we are able to rise to the challenge. We did harvest with stems, 30-35% of stems. Gevrey Villages which are extraordinary. No pumping, working with gravity. Fermentation with open pigeages. Maceration tres long and lower temperatures than normal. The bunches were with different sizes of grapes. We needed some non millernande grapes, which brought concentration. The smaller grapes. The larger grapes were more classic, with more acidity. We have less acidity in 2010 than in 2008.
This reminds me of a vintage like 2001, but more fruity. Not a grand success for any particular village.
With 2009 vintage you had to be very careful with new oak. Why? Hot ripeness, he explained (interesting how this contrasts with what Brouhin said at Clos des Lambrays). 2008 was a 'cold ripeness'. Higher alcohol and higher warm ripeness in 2009, which means that you would extract more oak tannins.  A velour-like wine handles new oak less well, he said. It got rather oaky…  We are going with less and less new oak. 2009, we used 30% less new oak. I like less oak!
2009 wines:  both reds and whites
When to pick in 2009? For the whites, the 'earliest possible' is his response. They started on 7 September and finished 20 September. Lots of quantity in 2009. The big secret, start of July, fleur and raisin. Niveau moyen correct. Vines needed to be visited. Some plants only had 3 or 4 bunches, others had 8 or 10 bunches. We decided to do a green harvest, never more than six per vine. In mid-August, we had some anxiety. People thought we would do an average harvest. But the quantity was enormous.
What is the 'secret of 2009?' People who removed the 'shoulders' of bunches, which had an earlier maturity, to better concentrate the remaining grapes. 'We saved some maturity,' he said. Better maturity and earlier, with more acidity. That was the secret for the whites. After 2008, 2009 does not have much acidity – that is what we were saying in August. That was the challenge. Everyone was waiting for a great vintage.
The reds 2009
Savigny Les Beaune. Label negoce, but 100% domain grapes. Very nicely fruity. Appealing. Very gourmand. Was put in bottle 12 days ago. Good.
Monthelie. This comes en haut du coteaux, expression tardive, a domain wine. Licorice. This is a lovely wine. US market. Lots of volume. Dark cherry. Fruit is there. Bonne trame. High ripeness not concentrated. Rather severe tannins here normally.  Colder soil. 17-18 Sept
Beaune Teurons. Rather hot soil but nice balance between limestone and clay, rather rich soil. Not sandy Greve soils. Just lower than Greves. Limestone is underneath, not mixed. Violet and spice. A bit of alcohol on the mid palate but you have good ripe tannins. I prefer the above.
Enfant Jesus. More profound nose here, darker fruit? A bit of licorice. A bit of reticence on the palate but just did racking…
Volnay Caillerets. A bit venison notes here, but velvet. Palate is rather dense in terms of tannins but not aggressive. Fine. Precocious soils. 7-8 September harvest.
Pommard Rugiens. Candied red fruit, not racked. Polished nose. These wines maintained lots of CO2. Makes tannins a bit more severe. High up on Pommard. A bit cooler soil here. Energy here, minerality. Very fine. Millesime chaud, sol froid. 7-13 September. Vines are not that old. 25 years old. Really like this!
Le Corton. This was just nice during the entire maceration, but it is almost Musigny. Very delicate, he said. Indeed, this wine is vinous. But subtle. 65% new oak here. There is a vanilla aspect, slightly drying tannins? Craie and ashes, he said. Colder exposure , very good for hot vintage.
Nuits Saint George Les Cailles. A bit subtle on the nose. Cassis nose, subtle. Fine grip here. I prefer this to the above. Hint of chocolate. A bit severe today.
Clos Vougeot. Big and meaty – and perhaps the star of the reds in this series. The 'verity' of the Clos Vougeot. Cinnamon. Slight venison. Freshness. 50% La Plante L'Abbai, higher part. The other part is the most earthy, just near the wall at the bottom: very earthy and very airy. Concentration but not light. Very fine. Indeed, this wine proved marvelous, perhaps the very best Clos Vougeot I tasted.
Chapelle Chambertin. This appears weak after the Clos Vougeot, more one dimensional, but tasted later, it was quite fine.
Question on comparing for Philippe: 'For me Bonnes Mares is spheric. Chambertin is more diamond like. Bonnes Mares is more charnu. Musigny, there is such delicatesse and subtlety'.
Whites 2009
Bourgogne Chardonnay Reserve. 80 a 100.000 btles. We reject new oak for whites. We use it for this one, 20% of new oak, which permits us to use them the next year for Puligny and Montrachet. 6 months of aging. Coming from Cote d'Or.
Meursault. 12 hectares. Good quality. Just a bit soft on the mid palate. Nose is not very expressive.
Meursault Les Clous. 8 hectare. 35.000 btles. Nicely done. High on the cote. Mineral. Tilleul. Vente de tilleul in Valley Rhone. North. Bonne acidity. Bottled last week. Fantastic. Get English word for tilleul. Seek this one out!
Whites: 2007 you had to harvest late for the whites, in 2006 you had to harvest early. Interesting. Too hot for the whites in 2006. 2009 was more like 2006. 2010 is more classic, like 1991.
Beaune Clos Saint Landray. White peach. Muscade. Nicely rich. 1791 bought. 1985 it started to exist. It was forgotten, used for Beaune du chateau. But we always had to harvest it early. Lacks the vibrancy of the preceding wine. But nice.
Meursault Genevrieres. Buttery richness immediately. But some nice white pepper aspects. Sap on the palate.
Meursault Perrieres. Stone. Slate. Three parcels. Aux Perrieres, Haut Perrieres and just next to Puligny Montrachet. Very mineral. Very nice, less fat than the above. Lovely! Mi Janvier en bouteille.
Chevalier Montrachet. Very sunny, but more we go up, we meet St Aubin. We get more acidity and minerality. 12% new oak. Citron vert. Orange blossom, some grapefruit. This is lovely stuff. Beautiful. White pepper. LOVELY. No difference in acidity with 2008. For the next wines, too. 4.10 grams of acidity. Au niveau d'un Chablis. Two weeks earlier than in 2008, the harvest. 13.6-7 alcohol.
Chevalier Montrachet La Cabotte. Same level of acidity but the definition. Hermitage blanc. A bit violent like a truffle, he said. This is richer and more intense. But very flavorful. 13.8-9.Monopol. A bit of fat, do I prefer the above?
Montrachet. This is rich. Very fine. Rather closed. More tension and you have a more cutting acidity. Like la Ronce. Like a framboise. A bit acid and vegetal. Same level of alcohol as the above. But we feel it less.
Corton Charlemagne. Very eastern exposure. But cold sun. Early solar exposure. The antithese of Le Cabotte. Ten years ago we spoke about purity. The risk is to be too discrete. The client will not buy something too discrete. Second step, let's talk about precision, not always pure. Today, we take the risk. Why not harvest a bit later? The wine: lovely fruit, citrus expression. Some stone notes. Beautiful. Nougatine. Almond and sugar. This is DELICIOUS. Almond and nougat. This is the greatest ripeness we have had, more than 2008. Get this one.
This was my fourth visit with Jacques Lardiere, the last time with his daughter Juliette Lardiere and Christophe Roumier happened to be there.Comparing 2009 with 2005
2009 is more feminine compared to 2005, he said. Less acidity in 2009. pH is higher compared to 2005. He seems to prefer the 2009 vintage. Colder temperatures in 2005. Harvest was colder. Morning temperatures during harvest at 10-11 degrees, with 22 degrees C in the afternoon. Also, the last week of August was cool in 2005. Interestingly, there was more of a selection to make in 2009, even though it was riper [ask why]. Yields were higher in 2009. Why higher yields? Vines suffered in 2007 and 2008, so the vines naturally compensated, he said. Just ahead of the 2009 harvest, the 2008-2009 Winter was cold, then a quick debourrement (bud break) for 2009. He spoke of the facility to form the 'molecules of carbon' and the 'jet of life'. The Pinot benefitted more than the Chardonnay, he said. The Chardonnay did not have the same 'rythm of maturity' of the Pinot. There was less juice, he said. Pressing was not as easy. The harvest was hotter in the mornings, and no rain. We gained three days of harvest because of no rain. We knew it was quality. Very simple. While in 2005, we were easily about 15% less than average, 2009 we had a bit higher than average: we bled the vats, too. We like to macerate, balance of tannins and acidity. Huge difference in pH: 3.2 in 2005, while 3.6 in 2009. People liked the 2005 only after the malolactics… it was hard to taste initially, he said. So 2009 is riper than 2005 in a sense, with higher alcohol levels, especially for the Pinots, but also for the Chardonnay.
He affirmed that 2005 is not a classic vintage, that 2009 will be more classic than 2005, for the pure expression of Pinot: interesting remark! 'Very typical for Pinot, access is there, while the 2005 will need more time to digest tannins which are not abouti. The tannins are more perceptible because the 'memory of the acidity' is present. The more acidity you have, the more you notice the tannins. In their length, not in there thickness. 2009, acids are low and pH are higher… I think that the great 2009s are exactly like the 1959s. The 2005 is a beautiful vintage as well, the very good 2005s will age well. We bought very little grapes in 2005; we concentrated on our own vines. Some wines are not as ripe (as in 2009).
On the whites
We did not harvest too late in 2009. But were we 'correct'. We do not have much acidity but we have 'memory'… 'the energy of Winter passes, this tension… memory of the acidity.'  What is that, I wondered. 'The harmony and dynamic of molecules, that which maintains the life of the grapes.' Rather mystical dialogue here…
50% new oak will help this vintage, he affirmed. 13.5 or 13, very little difference in terms of alcohol levels; depends on what you are extracting. If your oak was not sufficiently ripened outside (dry the oak staves), it should be properly degraded. We had a strong phenolic charge in the grapes, but hard to press. The oak's molecules liberized the grape's phenolics, but not masking them, with the exchange of the oxygen, a charge et decharge de l'energie.
I have to say that I was quite impressed with the whites overall, here and at other properties. I was expecting some flab, and did get a bit, but far less than expected, and – encore mieux – I got some lovely wines. This is by no means a 2006 style vintage for whites. It has more verve.
Belle impression d'acidity. Charmes and in particular, Meursault. Pernard Vergelesses Croix de Pierre was very nice. Genevrieres from a two-year old barrel was very nice, if just a tad dumb.  The Perrieres, a mix from all four barrels – two new oak, one with one-year old, another two year old, was very fine, although did I detect just a hint of sweetness? Longer term fermentations, because lots of sugar. Not racked; there is a lees aspect.
Chassagne Morgeot Monopol Clos de la Chapelle. Another sweet aspect here on the nose, which is deep and full-bodied. Rich, not very mineral palate. Somewhat thick, if not fat. Finished in August, the sugars. A bit of heat for me on the finish. Malolactic finished in May, but alcoholic fermentation was later… August! 13.8% alcohol. Another Morgeot, not the monopol, but from rockier ground, seemed fresher. I liked it more.
Puligny Montrachet Les Folatieres 1er Cru. Now this was special. Herbal freshness. Far better nose than any of the previous whites, no hint of fat here. With parcels from the very northwestern part of the appellation, it is not far from Chevalier Montrachet. Lovely. Iodie with zest of lime, more malic acid here, somewhat lower alcohol at 13.3% Alcoholic fermentation finished in June.  More energy here, he said. Not necessarily the acidity… he went on about charge et decharge and the molecules. Not sure I understand, but I do like this wine enormously and intend to buy it.
Chassagne Montrachet La Romanee. From a very high area of the mountains. Not their own grapes, he said. Hopefully someday, he added. Acacia notes. There is a delicious salted caramel aspect that is adorable, and very good acidity. Lardiere prefers 09 to 05 for the whites in general.
Very full yet subtle. Ends on a lovely, briny note: a saline richness. Good sense of acidity, but once again he stressed that it is not the measure of the acidity that makes the difference, but rather the 'memory of the quality of the harvest'. 'We did not want to maintain malic acidity in 2009, we did not want to crisp the wine up… we wanted to liberate the charm of the vintage, rather than stay with the structure,' he explained. 'In 2008, some malic acid was kept; in 2008 acidity blocked things, and we did not want to combat it by lessening it, so we left it on the lees. He likened this to 'putting it in gloves'. The malo was important. but you still had ferocious acidity, a tartric acid – in 2008 – so leaving it on lees longtime. 2009, on the other hand, the maturity was not really realised, but I reacted by instinct, that was the impression we had, because we could not press the wines easily.
Puligny Montrachet Clos de la Garenne
Puligny Montrachet Les Combettes (just three barrels!). Low acidity. 3.20. Good minerality.
Corton Charlemagne. A bit thicker here. Good spice. Perhaps slightly fat. Aubepine. White flower nose. Just above the Pinots. A bit of heat. But a nice fresh finish. A bit more foursqaure than Folatieres to me at least.
Chevalier Montrachet Les Demoiselles. Just underneath Folatieres. Divided in two between Latour and Jadot. A hazelnut fresh, he said because he comes from Vendee and they sell it raw… and saltiness. I get freshness. The palate is a bit thick, just a tad, but has freshness and a brisk aspect, too. I did not react as emotionally as I did with Folatieres oddly enough. July ended its fermentation.
Le Montrachet (cote Chassagne). We are with Tenard on Chassagne. March fermentation ended. 14 degrees.  A bit fat? Very deep, certainly, with rather broad shoulders. 'It has dry extract,' said Lardiere. It was a bit hard to ascertain for me, somewhat brooding.
Two 2008s
We then went to a 2008 for kicks. The Marsannay Blanc. 'Lovely gloves on tartric memory', he said. Fascinating wine and not expensive. It has a nice nut aspect and yet superb vif. Lovely. Seek this one out!
Pouilly Fuisse. Only 20% of the harvest was used to make this Pouilly, which is not the Ferret bottle but the regular Jadot. Lovely. Rich. But I prefer the Marsannay.
2009 reds
Marsannay Clos de Roys. Very nice, more polished than the Marsannay, which is good nonetheless, but a bit more animal like.
Savigny Dominode. Lovely nose, a bit of musc, but not too much. Very vinous, a fine palate. Late malolactics, with four weeks of maceration. Even lower acidity than the whites, he said. For me, we did not change: we vinify each vintage the same way. Generally speaking, for me, this principle reveals the vintage. It has 3.55 pH. We digested the tannins, and that will make the wine, he explained.
Pernard Vergelesses Croix de Pierre. They have … 56 pieces! The malo was earlier here. Easier to taste. 3.60 pH. Nice balance, incredible for the balance. No added acid. But in 1959, which had volatile. 'But I have drunken 1959s; when I arrived in 1970, we still sold them. This vintage reminds me of 1959, same level of acidity,' he said. They bled the tanks. Nice freshness. Interesting that acid is so low, and yet this works. 'The minerality of the soils liberate this energy', he said.
Beaune Greves (northern part of the slope, as opposed to Clos des Ursules, which is southern and more humid). Blue fruit, freshness on the nose. Malo finished in July. Very nice, not particularly long. But lovely freshness. Rather floral aspect. From a one-year old barrel. Lovely.
Pommard Rugiens. Rather floral on the nose. Very fresh, a bit tight on the palate, but the nose is cherry and flower. Lovely.
Volnay Clos de Chenes. More closed. Colder temperatures? Nice texture on the palate, but not easy to taste: not saying much.
Chambolle Musigy Villages. Always without stems. Very deep in its flower expression, good tannin. Nice tannic trame on the finish. Needs time. But promising.
Vosne Romanee Les Suchots 1er Cru. Protein richness, he said, and I could get a whiff of animal ever so slight, yet also lovely and deep. Full bodied, but not easy now to taste.
Vosne Romanee Beaux Monts 1er Cru. More accessible, more sap. Better than Suchots for me. More sap and seduction… Seek this out.
Chambolle Musigny Les Amoureuess. A mix of the two barrels that Louis Jadot has. Very deep nose. One is new, another from 2007. Four weeks of cuve. This is a nose that is fantastic´ in its depth. Very mineral, perhaps less immediatey appealing than Roumier; not quite as fresh? Elegance will come later, Lardiere said. 13.4% alcohol.
Echezeaux. Very floral nose here, coming from 50-year old vines. Magnificent wine here! For Jacques, this is classic, for Pinot, he said. 'This is how Pinot should taste. This is one to buy for special occasions. I will buy a few bottles.
Chambolle Musigny Les Bauds (spell check). Underneath Bonnes Mares. A bit masculin now. But later, he says, it will get more feminine. Nice extraction: limestone minerality. Fine. Long maceration. 3.20 acidity. Not much… some had only 2.8! For Jacques, when he tries 23 or 59, 2.8 acidity. They aged well because they were nicely macerated, well vinified. When he talks about 1959, he talks about only 'the 20%' which were made well, without volatile acidity.
Gevrey Chambertin Clos St Jacques. For 2009, GC for reds is what Puligny is for whites, he said. How could I possibly disagree, being wowed almost from the instant I stuck my nose in the glass. Depth yet an orange freshness, with notions of griotte red cherry. What a real pleasure to drink this! GREAT. 13.1% I found six bottles en primeur for €72 and did not hesitate.
Chambertin Clos de Beze. Super serious nose. Subtle pepper notes? I have waited for this vintage, finally, said Jacques. He loves this vintage. Nutmeg. He was waiting for another 1959. Here it is, he said. Fine sap here, magnificent. 11,000 pieds d'hectare. Very much like 1959. 13.45 alcohol.  I would buy this but too expensive. Clos St Jaques is just fine for me ;-).
Musigny Grand Cru. More violet on the nose…. he agrees. One new oak barrel, one 2008 and one 2007: after malolactic. This is the barrel 2008. what a beautiful sap here, rich yet elegant. And here we spoke of the difference between Morey St Denis and Chambolle Musigny, as illustrated by the two above grand crus.
Key explanation for France Today article:
I have vinified for 25 years the Bonnes Mares, Morey and Chambolle. Are the wines of Chambolle more subtle than those from Morey? That is what is said. But we have had property on both sides. We did Bonnes Mares domain, until 2006, with both sides: from Chambolle and from Morey. The contract ended in 2006, so no more wine coming from the Morey part into their Bonnes Mares. But we realized that influence of limestone, the Bonnes Mares became more virile than before. So for me, Jacques Lardiere, Morey is actually more subtle. I should have reflected here. Clos de la Roche, the real Clos de la Roche, I was a bit influenced by talk…. I was surprised that Chambolle are more viril than we think. Limestone from the high part, the Morey St Denis … Now we are only with Chambolle. Limestone of Chambolle. Morey is more argilo calcaire, which buffers the rock of the Chambolle. Which makes the wine less masculine. Which explains why is it now more viril. He spoke about Chambolle and Volnay… Same problem, he said! I did not catch what he had said while we were tasting the Volnay, which I had found harder to taste… perhaps he was missing a part of terroir now as well for his Volnay?
Clos Vougeot. 2.5 hectares. From the road to the mid slope, not as high as the chateau Clos Vougeot, however. Interesting. Very earthy, rich and tight. Too young to appreciate, but lots of stuffing. I find the Bouchard more airy, more elegant.
Two 2005s
Clos Vougeot. Five years time, not ready to drink now! Certainly foreboding. Lardiere used some mystical language to explain why: 'It 'condenses' now, he said. It is breathing; I call it condensation, there is a molecular regrouping – it needs to digest and evacuate. Polymerisation,  getting rid of less ripe elements… liberating life. You are cleaning the impure, the less ripe aspects, but which had protected the life.' He said that they harvest some grapes which are not completely ripe, which are then 'digested' in bottle…
Bordeaux intermezzo… The Bordelais are getting 'closed molecules'. When you are drinking, this a 'cellular cleaning', he said, speaking disparagingly of many Bordeaux wines which are big and tannic: we feel the tannins on the teeth. They are making wines to taste today, easier to drink… we still do not do this in Burgundy.
Well, here is my tasting note for the Clos Vougeot 2005: Very spicy and elegant on the nose. En bouche, it is a bit austere. This needs another 10 years, but on its way… And yet: orange freshness on the finish. Such great potential.
Vosne Romanee Les Suchots. A bit more open. Bit of chocolate here, a bit of animal, too. Should we have gibier with this? Lamb? There is an austerity on the palate, too. Sap and structure, here. Too young…
Well, that's that for now. I just tasted – on 21 December 2010 – a Maison Champy Morey St Denis Grand Cru 2003, which is lovely. Just a bit short, but the aromatics and the smoothness are impressive.
Please stay tuned to this site; I welcome comments from Burg lovers…
Clos St Denis Grand Cru Coming from 90-year old vines. Perfume and puissance. Almost too tannic today. Impressive. Malo happened later.