Delightful Soave
May 12, 2013
Spring 2013 in Europe – at least in northern Italy and much of France – has been pretty awful. Visiting friends who live in the charming village of Soave, known for its white wines, told me how difficult the growing season has been for their vegetable garden. Cold weather and rain brought not one but two floods in Soave. Certainly vintners are not enjoying this weather either. Let's hope for a proper summer to ripen the grapes.
Special note: click the images twice, to get the full-sized versions
When I visited in mid-May, we enjoyed at least a semi sunny day, walking along the Pergola Veronese trellised vines of Soave after having enjoyed homemade Risotto and asparagus, and a delicious homemade dessert. Soave's gently sloped vineyards are crowned by a gorgeous medieval chateau and count among the most picturesque I have seen.
Yet Soave has had a reputation for producing boring wines. I love the 1970s for rock music, television shows (Three's Company, Kojak, Fantasy Island and many others), soft focus lenses, lava lamps and so much more. James Bond was less an action figure and a far better wit. I had a great childhood. But  the 1970s were not exactly a golden age for wine. As visually appealing as this 1970s era Soave Bolla commercial may be, it also reflects barely average (and rather cheesy) wine…
Even today, your local supermarket's more inexpensive Soave could turn out undistinguished.
But times have changed, and that's all the more reason to visit Soave and discover that quality does exist. Thanks to friend and professional mentor Colleen Barry – instrumental in hiring me to work for the Associated Press – I joined her for a Soave tour, along with her husband Martino, whose intelligent passion for wine and food, and life, knows few bounds.
We visited Soave producer Coffele, whose wines rise above the general reputation of the Garganega grape, which is the traditional variety used to make Soave.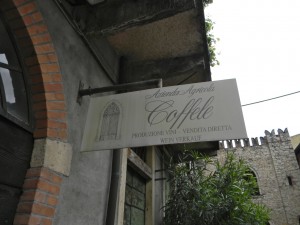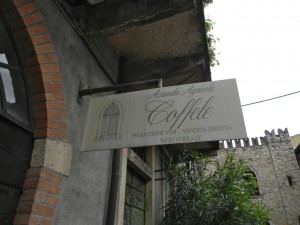 Coffele wines – because of lower yields and careful attention to vineyard and vat room work – impart more concentrated flavors than your average Soave. The Garganega grape lacks the overt expressiveness of, say, Chenin Blanc or Sauvignon Blanc, but it can convey savory flavors if handled correctly. A good test for quality is to see if the producer's base wine is good. By that standard, Coffele passes the test.
Tasting note of Coffele Soave Classico 2012: Steely nose. Lime like. Nose is subtle. The palate feel is concentrated, but not overbearing. Refreshing notes, tonicity. Orange rind, white peach and herbs. Brisk. Not mind blowing complex and finish is of moderate length, but I like the palate feel. Overall, a wine to drink and enjoy. With grilled fish for example. Or with caramelized onions on toast, or an olive tapenade to start things off. Its acidity cuts through cheese well enough, including the delicious Monte Veronese pictured above, made from cow's milk and produced in Verona. This Soave is a nice way to greet guests to an outdoor summer party. And let's hope the weather in 2013 cooperates. 
To dismiss all Soave as average thus neglects producers who work hard to make wine that is more than just fit for quaffing. Co-owner Chiara Coffele, pictured above with her father, Giuseppe Coffele – who, along with wife, Giovanna Visco, launched the Coffele vineyard in 1971 – explained the charming family history (you can read more details about that HERE) and presented various wines produced at the domain.
As much as she appreciates positive attention from critics, Chiara is not satisfied with descriptions like "good wine for a good price" because the general image of Soave prevents the domain from selling its wines at prices that would properly reflect their quality. The fine Soave Classico for example is sold to importers for under €4. This reminded me of Greek wine producers who punch above the weight of "your typical Greek wine" – and, yes, that includes some Retsina… Still, it is very true that Coffele wines have an excellent price/quality ratio.
Whatever the case may be, the tasting at Coffele showed that the Garganega grape can yield fine whites with flavor and interest.  The estate comprises 27 hectares, of which 25 are planted with vines and two with cherries and olives. They sell much wine outside of Italy – Norway is a particularly important market.
Here a fine video that Martino produced – thank you Martino – featuring an interview with Chiara. And scenes from our visit.
The next wine we tasted was the "Ca' Visco" Soave Classico 2012, made from 25% Trebbiano di Soave and 75% Garganega. As with the Soave Classico, fermentation occurs below 64°F in order to maintain the varietal characteristics of the grape(s). Then the wines are matured in small stainless steel tanks at temperatures below 61°F. After maturation, the "Ca' Visco" spends one month aging in the bottle prior to release. During the process, the wine is racked once and gently filtered. I got more palate concentration from this wine – more substance – albeit the nose seemed just a bit sweeter to me, so I preferred the Soave Classico in that sense.
I very much enjoyed the third Soave, the "Alzari" Soave Classico, which is made from 100% Garganega, but 40% of the grapes undergo what is called the "appassimento" process, by which they are hung vertically to dry in the domain's "fruttaio" (a room where wine producers dry grapes) for approximately 40 days. The remainder of the grapes are fermented immediately. This was an interesting mix, seeing that that method is used to make straw wine, wines made from grapes that have been dried to concentrate their juice (as we shall see with the next wine). I found the nose  intriguing, with spicy elements, herbs, more peach aspects but yellow this time, rather than the white peach of the first Soave, and notes of vanilla and almond. Here the alcohol level, at 13.5%, is higher than the 12% of the first wine… but nicely integrated.
Then came the "Le Sponde" Recioto di Soave Classico, made from 100% Garganega grapes, harvested in September to preserve acidity, because they then undergo the long drying process in the "fruttaio" where the bunches are hung to dry in special nets (see photo above). The entire wine is made that way. There they stay until at least the end of the following March. During this process, called "appassimento", the grapes are checked daily, and any imperfect grapes are removed. Appassimento gradually shrivels the grapes, concentrating the sugars and flavors.
After drying, the grapes are gently pressed, extracting the best portion of the juice. The resulting must is put into small oak barrels, some new and some used, where it ferments and matures for 10-12 months. The wine spends a further two months in the bottle before leaving the cellars. Obviously this painstaking process costs more time and the bottle is more expensive, at about €25 per bottle.
I really liked this wine. Its 12% alcohol and 134.50 g/ residual sugar are very well integrated, with good acidity. The wine exudes a rather floral nose, and followed through with a smooth and concentrated palate, with flavors of fig, dried apricot, candied citrus and attractive notes of ground spice. A fine finish. We talked about what to match with this, and one suggestion was pouring it over strawberries or to drink with Tiramisu.  Both sound good to me.
Many thanks to Martino and to Colleen for such a great trip through Soave. A much needed walk after our fantastic lunch seemed to make it all complete. And I cannot praise enough Martino's mom's "Torta di Rosa" – a classic of northern Italy. Kind of like a massive rolled bun (vaguely similar to, but 100 times better than, a Cinnabon) at once delicate and rich and utterly delicious.
Over lunch, we enjoyed a tasty dry sparkling Soave and then a particularly good dry Soave Classico, the Pra Monte Grande Soave Classico. I think it was the 2011 vintage. In any case, I found it to be among the best wines of the day, and better than a Soave we had tried from the Cooperative in the village, which was OK but no great shakes.
Anyone visiting Verona – a great city, by the way, and not just for the magnificent Roman arena – should make a short detour to Soave: a thoroughly charming village of some 6,000 inhabitants, its medieval walls and Old Country architecture are surrounded by lovely vineyards.