La Tour de France (of wine) at Domaine de Chevalier
June 30, 2011
One of the most enjoyable Vinexpo dinners was the 12th Tour de France organized by the genial Oliver Bernard and his wife Anne at Domaine de Chevalier. The loose and relaxing approach to the gathering – no assigned seats, guests had to serve themselves – made it, in part, so appealing.
We started with outdoor appetizers that beckoned the guests. And what appetizers! How about 36-month aged ham, whose rather fruity and very savory flavor and agreeable texture kept me coming back for more? I heard from others who arrived late that none was left. Go figure. Life is too short… Then grilled shrimp and apricot:  impossible to resist.
Best of all perhaps? Oysters on a half shell, enjoyed with Paul Roger Brut from magnum bottles. I could not stop lapping them down, and fellow writer Mark Golodetz is my witness and co-oyster lover.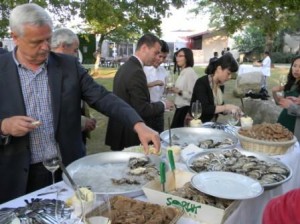 But other fantastic whites were served that accompanied all of the above, wines from various French wine-producing regions, hence the name Tour de France.
Thus did we enjoy an utterly delicious Zind Humbrecht Riesling Brand Grand Cru 2008 with the oysters as well. Or the Alphonse Mellot Domaine de la Moussiere Sancerre Blanc Satellite 2008 from magnum. The oysters were fantastic with lemon. But other whites that impressed me included the Paul Jaboulet Hermitage Le Chevalier de Sterimberg 2009 from magnum, a beautiful palate, not really waxy or lanolin, but in that direction. And certainly thirst quenching! Its somewhat thicker texture matched the shrimp perfectly, for example.
As the some 500 guests enjoyed the excellent food and wine, musicians cheerfully performed, while walking about the grounds, promoting a jovial mingling atmosphere.  As luck had it, the fine sunny weather also helped.
The Tour de France for wines started 24 years ago at Domaine de Chevalier with 88 people attending, Olivier announced, just before calling all to the seated part of the dinner. This year? We were some 500 guests! After the utter enjoyment of the ham, the shrimp and the oysters, among other fine foods and wines, we literally swarmed to grab a table because – unlike all the other dinners with assigned seats – this dinner was based on taking your own seat and grabbing your own wines. But the choices were amazing…
In the centre of the room was a counter with the various wines featured, from superb Burgundy and Rhone to excellent Bordeaux and Alsace.
One main course which was better than many others I had this week: a delicious medley of lamb and vegetables with truffle shavings. Absolutely delicious.
And then we were spoiled by the cheeses aged by the master cheese man: none other than Bernard Anthony! I did not get a chance to try all the wines, but here some highlights… wines in bold I liked in particular; in red and bold, even more. When underlined, an almost holy experience!
Domaine de Chevalier 2000: It is drinking very well today, with an iodine like freshness and excellent nuanced richness. A very fine red that did not cost much at all upon release…
Domaine de Chevalier 2010 (white): I tried again this as a barrel sample and it is very promising!
Chateau de Fuisse Pouilly Fuisse Tete de Cru 2007: Lovely perfumed aromas, fine richness on the palate, pleasing texture, if just slightly over smoky for my taste.
Olivier Leflaive Bienvenues-Batard Montrachet Grand Cru 2006: The aromas were promising but it lacked the vinosity one would expect from this grand cru vineyard.
Olivier Leflaive Batard Montrachet Grand Cru 2006: Very nice nose, rich yet smooth, with lime and red apple, and a creaminess in the mid palate. Smooth and long finish. Excellent.
Alphonse Mellot Sancerre Blanc Edmond 2006 : Smooth and silex like, very mineral and iodine and… very fine. Some people at my table, serious Belgian drinkers and friends of Didier and Florence Cuvelier of Leoville Poyferre, found it a bit too silex like, but I liked it!
Pol Roger Cuvee Sir Winston Churchill 1999. What can I say? While waiting for yet another bottle to be opened, I sipped the regular vintage 2000 (which I own) and realized just how good the Winston is. Creamy yet focused, vinous yet precise. This wine, and the oyster bar, were perhaps the two main gustatory highlights of the evening!
Zind Humbrecht Riesling Brand Grand Cru 2008. Lovely pure aspect here, 13.5 alcohol but dry. A very impressive mouth filling Riesling with excellent acidity to match the Humbrecht opulence. I loved this.
Zind Humbrecht Riesling Brand Grand Cru 2001. This was so subtle in its mineral expression, which included light gunflint but not overdone, that it was yet another highlight of the evening!
Vega Sicilia Unico 1994. I have to say that after having had the 1998 last year, I was not as impressed with this 1994. Perhaps it was an off bottle?
Paul Jaboulet Hermitage La Chapelle 2001. I recall four years ago when I last attended this fabulous gathering, my wine of the night was the Jaboulet Chapelle Hermitage 1985. And I liked the 2001 almost as much. Perhaps it needs just a bit more age, but I liked its Syrah expression of pepper and dark fruit. Very enjoyable red!
Faiveley Gevrey Chambertin 1er Cru Les Cazetiers 2008 (magnum) : Very polished strawberry nose, fine richness and finesse all around. A revealingly excellent 2008 red…
Faiveley Corton Clos des Corton GC 2007 (magnum): Very fine tannins, softly rich, focused, if just a tad sharp perhaps on the finish, but overall I love the elegance and the enjoyable mid palate.