Bordeaux 2009 from bottle: TNs from guest taster Faryan Amir-Ghassemi
February 3, 2012
It is that time of year. The Bordelais tour the world to have their latest vintage in bottle tasted by wine buyers and hacks like yourself. As a contributor to Decanter, I was able to taste blind scores of cru bourgeois and scores from the Pomerol appellation. Overall, the vintage has proved its promise from barrel. You can find some lovely cru bourgeois whose prices have not followed the skyscraping trend of many of the cru classés.
Wines like Poujeaux and Chasse Spleen from Moulis, Pibran from Pauillac, La Bernadotte and Sociando Mallet from Haut Medoc are all very fine. There are some wines that are a bit jammy and hot, others where maturity seemed blocked or somehow managed to get some unripe flavors, but these are – for the most part – rather rare. The Pomerols I tried were also successful, although I was less inclined to grant gold medals. I feel that the Right Bank, in general, is handicapped by high alcohol Merlot in 2009 and in 2010. Although estates which have a good amount of refreshing Cabernet Franc on average performed better. Still, Pomerol did have some gems in 2009.
But these are just rough sketches. I will get more into detail once I taste the wines next month in Germany and again in June – I hope – in Moscow. It is so much fun to follow the UGCB bandwagon. I missed them in the US this year, but here some notes from fellow taster and wine friend Faryan Amir-Ghassemi, who is not only a talented and perceptive taster, but a true wine lover. He has agreed to grace my blog with notes he took from a tasting in New York City last month on 25 January 2012.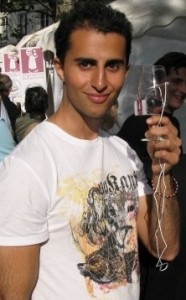 2009 Bordeaux tasting notes by Faryan (at left).
Preemptive note: I didn't have a chance to taste the right bank wines.  By the time that I was meticulously working through Graves, I was informed that some of the heavy hitters were running out of wine, so I went ahead and fast-tracked to Pauillac, Margaux and St Julien. By the time I was done with these, there was only time to sample the blancs and Sauternes (not to mention most of the right bank wines already packed up or depleted). As such, these notes are not a reflection of the right bank.  We'll have to try them later.
General impressions – 2009 is clearly a vintage where the elements were favorable.  Across the board, phenolic ripeness was superb, concentration was a given and the quality of fruit was a repeated noted. What differentiates the quality of the wines to me was the ability of the vigneron to conscientiously manage the maturation of their grapes to both create high quality wines but to also be cognizant of the style ofBordeaux, the appellation and most importantly, its own terroir. If terroir is not an issue for you, there will be oceans of good-tasting well ripened wines coming out of this vintage (many hopefully at reasonable prices from the non cru-classé.
If you have favorite producers you are keen on buying, I would advise the careful shopper to navigate this vintage with a more refined view, as there were obstacles to overcome in order to find that perfect balance.  Some wines were outstanding; perhaps the best young examples of their respective chateau I have tasted.  Some wines were endemic of the point-craze influencing craft; overripe, overtreated and generic/lacking character.  Quality in many cases trumped charm.  In a few cases, the identity of the wine as Bordeauxwas marred to a point where it drew no appeal to me, regardless of substance.  Finally, as a whole, I believe the most successful wines in 2009, similar to those in 1990, will be the ones where the vigneron was able to achieve freshness and nervosity (a term I use to describe a certain "electricity" you get from the wine's ability to balance many powerful components) through careful management, while not sacrificing ripeness and quality of fruit (a difficult balance indeed).  There were a handful of wines that showed this and project to be superlative wines through maturation.
Graves – As a whole, I was quite happy with the reds, with the caveat being that UGC does not showcase the crown jewels of graves (Mission and Ch. Haut Brion).  The cooler more porous soils of the graves perhaps allowed for wines of higher merlot levels without having the worry of pruney/stewed merlot factoring into the final assemblage.  I think this benefits the region.  The whites were simply outstanding.  2009 Domaine de Chevalier is the greatest young white Bordeaux I've ever tasted (more on that later).
Haut Bergey Rouge – Opulent, thick, a bit overt oak on the nose which is not symptomatic of the house (didn't see this as much in the 08,06 or 05 at prior UGCs).  Perhaps they thought the fruit ripeness could afford more oak, but to me it was a bit beyond what I would like in my Haut Bergey, perhaps sacrificing elegance.  The wine is undoubtedly plush on the palate, but it doesn't speak to Graves.  We'll see how it progresses. (90-93)
Carbonnieux  Rouge – More traditional and "blocky" than the Haut Bergey.  A bit more stodgy and oaky, but too young to really condemn the wine in terms of its balance.  It clearly has the stuffing and depth that one wouldn't expect from Carbonnieux, but as a rule, it is something to expect from the 09s. (88-91)
Domaine de Chevalier Rouge – Last tasted a year ago almost to the day via barrel sample.  The wine has "grown up" quite a bit.  Before it was primordial, backward and embryonic.  In this setting it has calmed down and begun to settle into infancy.  The wine shows far more class on the nose compared to the prior Graves.  More floral lift (almost Margauxesque) and a beautiful red berry element to the fruit.  I can't wait until the telltale smoke begins to develop with more time in bottle.  D d Chevalier rouge seems to be nipping at the heel of the 2nd tier graves rouges.  Excellent.  (92-96)
Haut Bailly – structured, backward and massive.  To me, Haut Bailly shows very classic and backward in its youth.  I distinctly remember many people fawning over the 05 when tasted at this event years back but I was struck by its reticence more than anything.  Old guard indeed.  Nonetheless, the nose is regal in its fruit.  It has that unmistakable ability to hold both light/fresh delicacy on the nose, compared to the power and depth to the mouth.  The classic velvet glove in the iron fist.   I find wonderful nervosity in the nose and this is something I project as great potential.  (91-95++)
Larrivet Haut Brion Rouge – basic, nice red berry aspect to the nose.  Clearly less regal than the Haut Bailly.  Still, it has beautiful fruit but some drying tannins on the finish butting in.  If priced as LHB has been historically, this is a nice wine to keep, but I don't think it has the class to justify a high price point.  (88-92).
Pape Clement Rouge – Decidedly more modern than all of the wines tried prior.  The creaminess on the palate smacks of vanilla toast oak rather than fruit and to me this is something I tend to avoid as it impairs the transformative gift that Bordeaux wines provide with patience and a cold cellar.  To me, this wine shows like a California Cabernet that is aimed to please a buyer in its relative youth.  Again, there is wonderful fruit and depth to it, but this is a stylistic choice Pape Clement made, effectively turning its back on what I loved about the Chateau from decades prior.  (NR)
Smith Haut Lafitte Rouge – Cut from the same mold as the Pape Clement.  Too rounded and "smoothed" over.  The finish is a touch drying, but I just don't vibe with this wine.  The style is simply too formulaic for me.  Caveat being, that if you enjoy the early consumption style, this is undeniably quality. (NR)
Domaine de Chevalier Blanc – OMFG nose, blowing away everything else tonight.  This wine is simply superb.  While embryonic and very basic, it has extraordinary lift and balance; the most focused young white wine I can remember tasting.  It's like a hypothetical blend of Chablis Clos minerality, Chevalier-Monty focus and Graves tropic fruit/grape composition.  The wine is pure, completely transparent with no hints of excessive oak (or any oak for that matter as the fruit is centerfold).  Guayaba, pineapple, citrus, stone, chalk.  Incredible intensity.  Superb transparency.  Buy buy buy. (97-99+)
– No Pape Clement blanc to taste (empty by the time I was there) –
Smith Haut Lafitte Blanc – Exotic, bombastic with a backbone of oak but again completely overshadowed by the Chev Blanc.  Long live the king. (91-94)
Malartic Lagraviere Blanc – Rounder and sadly a bit of a letdown to taste after the Chevalier blanc.  Lacks that grip, that bracing and shocking focus.  More oak dominated on the nose and riper on the fruit, but still a fantastic graves blanc.  Sadly, it's a casuality of its compatriot. (91-94)
Margaux –
To me, 09 is a notch or two behind 05 in Margaux (albeit quite a limited sample size).  I don't think the region's higher allocation of merlot was favorable for the vintage.  Granted, I was unable to taste 09 Rauzan-Ségla, but from those that I did try (I avoided Lascombes and Kirwan), [Editor's note: Kirwan has increased in elegance since the estate changed its winemaking direction in 2007 from Michel Rolland to Philippe Delfaut, formerly with Château Palmer, and the Boissenot father-and-son team]. I found nice wines but wines that weren't exactly comfortable in their own skins.  At their best, Margaux wines balance lovely fruit with a floral perfume that matches femininity and delicacy with opulence and mouthfeel to match.  To me, the vintage was likely either a moonshot for an opulent merlot or a dedication to high quality cabernet which was not as prone to excessive ripeness/massive alcohol.  Margaux unfortunately sits in the cradle and really wasn't able to benefit from the best that 09 offered.  I will be curios to try Issan, Ségla, Palmer and Ch. Margaux…
Cantenac Brown – Stylistic shift from Graves off the bat.  This is less cabernet driven, a litter lighter and more spry on its feet.  Good red berry fruit, but a bit drying oak treatment on the finish.  A solid Margaux at a reasonable price point.  (88-90)
Brane Cantenac – More stuffing than CB, more structure but a bit more reticent.  Much rounder on the finish. (90-92)
Rauzan-Gassies – The 05 is a sleeper and a favorite from that vintage for me (available at a fraction the cost of its elder peer and many of the other heralded Margaux…).  I think the showing of 09 confirms my overall view of Margaux, as this 09 lacks some of the imprimatur of the appellation I look for in a "great" vintage.  Simpler, a bit curt but rounded to deceive one into not prodding too much into its substance.  Nice wine, but lacking the bells and whistles (90-92)
Moulis – Only tasted two of these, but they are the real deal.  They are less ripe in a vintage where above-all ripeness would be one's Achilles heel.  The Chasse and Poujeaux to me represented probably the best early drinking examples out there.  Bravo!
Chasse Spleen – Really shows lovely.  Wine has great lift, floral aromatic with unmistakable claret qualities.  Projects very well in terms of its ability to progress beyond infancy.  Fruit is the name of the game with this wine.  It is a delicate dancer that has nothing to do with oak.  It's one of the most transparent wines at the tasting.  Should be drinking immediately well and into the near future.  91-94+
Poujeaux – Cut from a similar cloth as the Chasse Spleen.  All about red berry fruit, great energy and lift.  Not a distance runner, but a beautiful wine to enjoy as you sit on your bigger wines.  91-93+
Pauillac & St. Julien –
To me, the unmistakable superstar of the vintage were the St Juliens followed by the Pauillac.  In their best iterations, the wines provide a wide variety of styles: from modern (St Pierre, St Julien), to regal (Lynch Bages, Pauillac), to feminine (Pichon Lalande, Pauillac) to classic (Pichon Baron, GPL – Pauillac).  This was a vintage where cabernet that was afforded the chance to mature slowly without undue heat exposure really rewarded the chateau with superb wines.
Pauillac
Pichon Baron – A bit atypical on the nose.  Far more feminine in its lovely floral lift.  Like a precocious youth wowing you with his memorization skills.  Reminiscent more so of the Lalande in many ways.  Red fruit and cassis but far more backward than the 08 was at this stage.  It is less transparent and classic in its expression, but more like a show horse.  Stuffed to the gills with tannins and fruit.  One doesn't need to worry about the structure or over-treated oak as some of the other wines.  I still haven't been able to discern its Pauillac roots after sampling the wine for some time, but the big 09s are so embryonic and must be judged with a longer time horizon.  (93-97)
Pichon Lalande – Nose is a bit more reticent and shut down (could just be the amount of air this wine has gotten).  Still has hints of the feminine floral lift one comes to expect from great Lalande, but this wine is big big big.  The palate is simply lovely with world-class balance, fruit and composition.  Beautiful, delineated fruit; so transparent.  There is no makeup, there is no cloying/overt oak.  Classic Lalande.  Just give it time to add richness, depth, pitch and complexity.  This wine will not disappoint.  (94-98)
Lynch Bages – A regal wine, undoubtedly and a style Lynch Bages seems to project vintage in and out.  A millionaire's (not billionaire's) Mouton so to speak.  Rounded, supple nose with rhubarb and wonderful cassis.  The cassis is the name of the game.  A bit of vegetal/burnt rubber that blows off with some more swirling.  The palate is clean, pure and in superb balance.  Will it be the next 90 LB?  Time will tell  (94-97)
Grand Puy Lacoste – One of my top three of the tasting, and it garners this title partly because one doesn't have to crack a thousand dollars to buy a case of it.  I'd love to line this wine up against a recent vintage Latour and serve them blind; it is that good.  What the GPL has that many of the other Pauillacs tasted seemed to miss was the freshness and nervosity on the nose that I began in my preamble.  Great lift and floral elements on the nose that is simply gorgeous.  Far less backward than the 06 and 05 GPLs; this wine is not draped in imposing tannins like those vintages.  It is subdued and elegant; qualities I think will make for better aging in a vintage that may have some risk-factor for long-term cellaring.  Simply superb and a wine I will seek to buy.  (94-98+)
Clerc Milon – Not quite as impressive as the GPL, lacking some excitement.  Clerc seems to nail a balance between classic Pauillac and modern fruit very well and the 09 is no different.  Should be approachable younger than many of its peers.  (91-93)
d'Armailhac – Maybe a small notch below the Clerc.  Similar, but harsher on the nose with some drying wood tannins on the finish.  (90-92)
St Julien
St. Pierre – Too much.  Too much oak, too much extraction.  Vanillin, toast, drying fruit that smacks one in the mouth.  I don't understand why they build their wines this way (welp… the big points they garner).  There is no elegance and restraint to their wines anymore.  I think 05 was the last vintage that didn't push this envelope too far. (NR)
Talbot – Nice, but has a burnt streak to it that seems to arise from the oak treatment.  Will it integrate overtime?  If so, it will be a nice wine  (88-92)
Leoville Poyferré – One of the most heralded wines at the tasting and you can see why; it's structured similar to the 2003 with a bombastic and "winner take all" style, but unlike some other chateau, I think the fruit is sufficient to hold the oak treatment.  The nose is beautiful red cassis with mocha bean espresso, but not excessive or drying.  Superb balance with miles of fruit, but not a classic wine in its balance or composition.  Very plush, very modern but I don't sense that electricity, that nervosity, that freshness that I feel when I drink a 1990.  Let's see if this wine can evolve positively.  (93-98)
Langoa Barton – You know you're at Barton when you begin to taste some backward wines.  I think I can still taste the 08s, 06s and 05s from yesteryear UGC tastings.  This Barton, while backward in comparison to some of its peers, is surprisingly rounded on the mouth.  So delicious, satin, plush.  Marries the structure with the mouthfeel.  A superb success this vintage with approachability in the near-term (92-95)
Leoville Barton – Excellent.  The best way to describe this wine is complete.  Structured and voluminous but not embryonic.  Excellent mouthfeel even superceding the Langoa.  Unfortunately, this bottle is pretty shut-down, especially on the nose which isn't budging much.  I wouldn't be surprised if this is a banner year for Barton (94-97+?)
Gruaud Larose – Another top 3 for me even though I concede it as less "impressive" and "endowed" as some of its peers.  This wine beckons to the glory days of Gruaud: the 80s (or 60s if you're an old fart).  Already the most complex nose of the night, with hallmark Cordier funk (sans Brett), superb red fruit, intermixed with secondary aromatics.  The mouth is absolutely lovely and light on its feet.  I recall old-timers talking about how fantastic and unheralded 1982 Pichon Lalande was in its youth.  I think this wine may be similar; the rare Bordeaux that drinks fantastic throughout its lifespan.  Back up the truck (95-98+)
Beychevelle – Simple fruit, lacks depth and harmony.  Cloaked with heavy oak.  The finish confirms what the nose sleuths out.  Not an impressive showing (86-89)
Sauternes –
Another banner year for the Sauternais?  We are fortunate, as it seems to be every vintage (not just every other) nowadays.  Hard to condemn any qualitatively, but I will note that stylistically these lack some of the backbone and acidity seen in the 05s, 07s or 01s in their youth.  They are round, supple, approachable and botrytis driven.  Sadly, the Suiduraut was kicked before I got there.
Climens – A great Sauternes, but for whatever odd reason, I reach for the memory of the 2008 which made a better impression on me than this wine did.  The 08, while less endowed, had a lift and a delicacy that was quite Germanic in many ways. It balanced tropic fruit with acidity and lift.  The 2009 is much bigger and a bit more cumbersome at this phase (something that would likely be eased with age).  The finish still shows why its Climens.  It is precise, delicate and beautiful.  The nose opens up as it comes to temperature with delicate crème brulee, coconut shavings.  Still Barsac, but I crave 08 (94-97)
Coutet – Less complex and intricate, the 09 Coutet still has a beautiful depth of fruit at a very reasonable price.  The botrytis sings through but it lacks that nth degree of complexity and finish in the Climens.  A value buy (93-95)
de Fargues –  shut down on the nose but deep on the palate.  Supple, but lacking the "baby yquem" qualities I associate with de Fargues, especially with regards to mouthfeel and weightlessness.
la Tour Blanche –  perfectly enjoyable, but didn't really leave an impression on me. (90-92)