Greek wine: not a Sisyphus story
November 8, 2013
By Panos Kakaviatos
Much has been said about how Greek wines have improved in the last 10-15 years, how the Greek wine industry has undergone improvements via investments in wine making and in viticulture. That a new generation of native winemakers has been trained in top wine schools around the world and that their efforts are paying off as Greek wines receive awards in international competitions.
Take for example Decanter's World Wine Awards last year, which I attended as a judge (although not for Greek wines), during which Gaia Wines swept the board with a total of three gold medals and how Lyrarakis, Estate Argyros and Domaine Gerovassiliou also won one gold medal each.
Some (still) think that this may be a flash in the pan – or even just a fad. After tasting over 40 Greek wines blind in Athens, I bet that the story of Greek wine today is not anything like being condemned to an eternity of rolling a boulder uphill, then watching it roll back down again. There are producers who are making – and have been making – some very nice wines, as was confirmed in a subsequent tasting later that month at an international conference of wine bloggers in Logroño, La Rioja, Spain.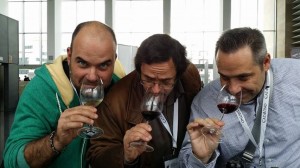 Along with two well known Greek wine experts – Ted Lelekas and Yiannis Karakasis – I discovered (photo, above) the freshness and youthful purity from a three-liter bottle of the Tsantali Rapsani 1998 made from three Greek red varieties: Xynómavro, Krassato and Stavroto.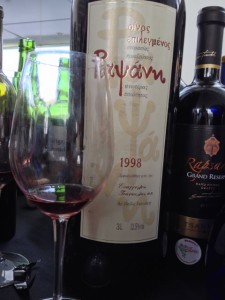 The picturesque village and the vineyards of Rapsani are nested in slopes up to 700 meters from the sea level. An "ideal place for safeguarding a unique wine making tradition which gives birth to an outstanding deep red wine," according to the winemaker's website. Access to the vineyards is only possible via dirt roads, an adventurous, yet rewarding ascent, it is said. Once up there, could one feel like Zeus?
When I landed in Athens in October 2013 for the Council of Europe, my trip had far more to do with of-this-world matters. It was to prepare for a meeting that the Secretary General was to have with Greek government leaders – so that he could get some press like THIS ARTICLE. Although not directly about the ongoing economic crisis, meetings addressed human rights issues related to that crisis. The rise of the extreme right wing party Golden Dawn, for example. As my contact mission with journalists spread over a two-day period, I profited from a weekend stay to see relatives – and to experience enchantment with authentic Greek wines, many made from the scores of indigenous grape varieties found in this ancient land, the land of my roots.
Many warm thanks to Greece's only Master of Wine (so far): Konstantinos Lazarakis, MW, who runs a wine education school – training many wine lovers to pass the WSET exam, for example – while also selling a portfolio of wines both Greek and international. He has written a definitive guide to Greek wines, which I highly recommend. It was October, and the weather was more like summer time, when I took a taxi to his office where he organized two comprehensive blind tastings: one for white wines, the other for reds and stickies: over 40 wines.
Following this tasting, we went to one of the finest restaurants I have ever been to in Greece – Vassilenas 1920 – in the nearby port town of Piraeus. More on that experience HERE, but I must say that the food was of such high quality that I could not believe my eyes when I saw the bill: 30 euros per person. Something similar in France would have cost triple, not including the wines. As you read my thoughts on the wines below, you can also see photos of some of the wines I liked – which we enjoyed at the restaurant. So, please, GO HERE for a more specific appreciation of food and wine in Athens, as well as a tasting of more wines.
Here the notes from the blind tasting.
Blind tasting: whites (10 October 2013)
First two wines were in fact red sparklers, both decent in their own way.
The first – Ode Panos Rose by Spiropoulos NV from Mantinia, Peloponnese (100% Moschofilero) at 12% alcohol – proved more immediately enjoyable, light with strawberry like fruit. The bubbles were fine enough, and the texture pleasing – although somewhat cloying and the finish was short. I liked the nose more.
The second – Kir Yianni Akakies 2012 from Amyndeon (northern Greece) made from 100% Xinomavro at 11.5% alcohol – had a somewhat heavy nose that was not immediately appealing, but the palate showed more substance (reflected in the darker tint of red, perhaps), with licorice and red berry fruit albeit just a touch bitter on the finish.
The rest of the wines – tasted blind – were all dry whites with one interesting exception:
Wine 3 turned out to be a Savatiano (grape variety) by Papagiannakos from Attika (PGI Markopoulo) 2012 with 100% Savatiano at 12% alcohol. I asked Konstantinos to open another bottle because the nose seemed to have an odd, almost "cheesy" aroma. The second bottle was better, more nougat like, but a somewhat overripe red apple that put me off. The palate was better, with medium plus body and a Chardonnay like feel but not oaky. It was just OK.
Wine 4 seemed to me to be the "pirate" as I had asked Konstantinos for each blind tasting to include a non Greek wine. The nose of this wine seemed to scream Muscat to me, perhaps with hints of litchi coming from a dry Gewurztraminer.  But no! This was – very nice by the way – a Mantinia Nasiakos Semeli from Mantinia, Peloponnese 2012 with 100% Moschofilero at 12.5% alcohol. It had a straw color, and a very Moscato like aroma – grapes – with a pleasingly pure aspect on the palate following a frank attack. Was it just a touch sweet, but overall nicely balanced and this, too, would be a nice way to start a party.
Wine 5 turned out to be the same as the above, only with skin contact in the winemaking, resulting in an onion peel color and – perhaps because it was fermented all the way through? – it contained 13.5% alcohol. Was my reaction psychological? My overall impression was a wine that expressed … not much. With a bland aspect. In any case, I was very surprised to hear that it was the same as the above, but with skin contact.
Wine 6 made me think that this was possibly a French pirate – and it was my favorite wine so far. The nose is quite subtle but reveals with aeration Chablis like stoniness and a Sauvignon Blanc like citrus. The minute I tasted, I visualized oysters. The palate was of medium body and had a decent precision – rather straightforward – with a medium finish. At less than 6 euros, this is quite a steal: Angelos Rouvalis Asprolithi (PDO Patra) from Aigiala, Peloponnese with 100% Roditis at 11.5% alcohol is made from vines grown along 900-meter high slopes. Great stuff for the price!
Wine 7 was not as impressive, but exuded ripe apricot and peach on the nose and on the palate, whose medium plus body reminded me of a mix of Semillon and Sauvignon Blanc. It was a Gentillini Robola (PDO Robola Cephalonia) 2012, from the island where my grandfather was born: Cephalonia on the Ionian Sea. 100% Robola and 13% alcohol.
Wine 8 counted among my least favorites among the whites, as its rather dark color presaged an oxidized Rhone, and the nose – though exuding pleasing herbal notes – was also somewhat metallic. Over time in glass, a certain pleasing buttery aspect took over – and it was OK. I suppose it would go well with fish in a butter and lemon sauce. Lirakaki Daphni (PGI Crete) from Crete with 100% Daphni at 12.5% alcohol.
With Wine 9 I felt positive that this was the French pirate, as it reminded me of a Semillon-Sauvignon blend with a bit of oak, as one could find in Bordeaux. Fine lemongrass on the nose and palate, which was pure with more than just a bit of depth. And yet! This was a bottle worth 12 euros, coming from Crete: Douloufakis Femina (PGI Crete) with 100% Malvazia di Candia Aromatica at 13.5% alcohol. So far, my favorite of all the whites.
Wine 10 seemed closed and expressionless, albeit mild notes of white fruit. The finished was marked by some noticeable alcohol suggesting lack of optimal balance. It was just OK, this Gerovassilliou Malagouzia (PGI Epanomi) from Salonika in northern Greece 2012 with 100% Malagouzia at 13% alcohol. At 15 euros, I think one has better dry white options based on this tasting.
Wine 11 was quite better, with floral and citrus aspects preceding a medium-plus bodied palate, with a subtle thickness not unlike Chablis like Chardonnay. Just a fine drink, I say, this Techni Alipias (PGI Drama) from Drama in northern Greece 2012 with 90% Sauvignon Blanc and 10% Assyrtiko at 13% alcohol.
Wine 12 I liked for a certain chopped hay like crispness that also made me think of a possible pirate. And here I was right: Chateau de Fontaine AOC Sancerre 2011 from the Loire Valley 2012 with 100% Sauvignon Blanc of course and 13% alcohol. But it was not my favorite wine of the tasting! You see, here we have some excellent Greek wines outperforming similarly styled classics from France… Such as the following wine.
Wine 13 is possibly the best of the entire blind tasting here, although not so much in the style of a Sancerre or a crispy Chablis. The darker tone was a hint, with notes of nougat and white apricot, which made me think of Semillon. Lovely concentration on the palate without ever being heavy or alcoholic, but dry and thirst quenching. The Vivlia Hora Ovilos White (PGI Pangeon) from Kavala in northern Greece 2012 was in fact a blend of 50% Semillon and 50% Assyrtiko at 14% alcohol. Lovely wine for less than 15 euros. Don't hesitate.
But with Wine 14 we fell down from the heights of Mount Olympus – at least I did – with the most expensive wine of the bunch. For some reason the Sigalas Kavalieros (PDO Santorini) from the magnificent island of Santorini in the Cyclades 2011 made from 100% Assyrtiko at 14% alcohol left me cold with somewhat off putting aromas of cardboard. Could it have been the bottle or cork? Retails for about 35 euros.
While not nearly as deep or long as Wine 13, this final wine of the dry whites, Wine 15, was pure in its expression of stone and citrus and for about 16 euros, could rival a decent Sancerre to be sure, this Santos Wines Nykteri (PDO Santorini) made from 75% Assyrtiko, 15% Athiri and 10% Aidani at 14.5% alcohol.
My overall impression of these whites was one of more than adequate consistency. While not all are gangbusters, most are moderately priced and have something interesting to say – with a couple entering a transcendental zone of beyond merely good, bordering on exciting. Well, Greek wines have come a long way since Retsina. But unlike many others who smirk when they read that word, I still love Retsina – having grown up with it. As we shall see in the next blind tasting, Retsina can be very, very good.
A tale of two Retsinas
Now these were tasted with the reds. Of the two I tried blind, one tried to be something it is not (at least for my inexperienced palate), while the other came across as a full blown resin-filled Retsina that I would drink with spinach pie, taramosalata, tzatziki and other lovely mezes. As you can see in the above photo, we enjoyed it with a superbly subtle taramosalata served with crispy Arabian bread. You can already guess which I prefer. I realize how much a fine reputation Gaia Estate has (heck, it may have had the best of all the reds below – it earned plaudits from Decanter, as we saw above) but what's up with its Ritinitis Nobilis Retsina "Tradition Appellation" from the Peloponnese? Made from the Roditis grape, it seemed faceless.
Perhaps it was better than that, but I was looking (and yearning) for resin, which I found in spades with the Papagiannakos Retsina "Tradition Appellation" from Attika, made from 100% Savvatiano grapes at 12% alcohol, this wine evoked that curiously appealing resin like aroma and flavor, but it also had excellent substance on the palate. I'm a buyer.
Blind tasting reds (10 October)
I found the reds in this tasting less impressive overall (less consistent), which surprised me. I was expecting the warmer climates of Greece to yield wines worthy of, say, the southern Rhone or good Languedoc wines. Having said this, in subsequent tastings – including at the Intercontinental Hotel two days later, and at the European Wine Bloggers Conference in Rioja, Spain, about 10 days later, I tasted some superb Greek red wines. Let's first take a look at this blind tasting however (I will post later on the subsequent tastings) …
Wine 16 had a red violet Bordeaux like color, but the fruit seemed slightly cooked on the nose. The palate was cleaner if showing hints of asphalt. Overall a straightforward red but lacking much expression. Zafeirakis Limniona (PGI Tirnavos) from Thessaly 2009 with 100% Limniona at 13% alcohol.
Wine 17 had a lighter color, bricking on the rim, and exuded plum like aromas with some tar. Quite light on its body, almost too polite in its expression. Cleaner than the preceding wine. Kikones Limnio (PGI Ismaros) from Thrace 2009 and 100% Limnio at 14% alcohol.
Wine 18 was much darker in tone, with oak derived notes of vanilla and caramel preceding a smooth entry and somewhat glossy "modern" palate with notes of cranberry and highish alcohol juxtaposed. Avantis Estate Mavrokountoura (PGI Evia) from Evia Island 2010 and 100% Mavri kountoura (clone of Mandilaria) at 14% alcohol.
Wine 19, even more opaque, dark violent, had an almost off putting sweet aspect on the nose, although the wine was dry – with blackberry notes and dried prune. The most tannic thus far, with some drying warmth on the finish. I could see this pleasing some palates but it lacks finesse. Papaioannou Vineyards Microclima (PDO Nemea) from Korinthos 2005 and 100% Agiorgitiko at 13.5% alcohol.
Wine 20 rather smelled like Schnapps and I was getting worried but the palate was smoother than expected – again a high octane power "wanna be" where some drying mars the finish. Ammos Terra Leone (PDO Nemea) from the Peloponnese 2009 with 100% Agiorgitiko at 14% alcohol.
Wine 21 This also has a hot nose albeit it more fruit driven and even nuanced mineral notes – with "chalky tannins" on the medium plus body. There is a mild asphalt tar like taste but overall this ends with a layered finish. Most successful red thus far. Gaia Estate (PDO Nemea) from Korinthos 2008 with 100% Agiorgitiko at 14% alcohol.
Wine 22 This turned out to be one of two pirates and – oddly enough – I got some under-ripe notions as well as cranberry and cassis and fine juiciness on the mid palate. I liked this wine, but it hardly bowled me over.  Jim Barry Cover Drive Cabernet Sauvignon Coonawawara South Australia 2010 at 14% alcohol.
Wine 23: A "sweeter" nose with violet and licorice aspects preceding a smooth entry to the medium bodied palate with a touch of cooked strawberry and a touch of heat, marked by oak derivation on the finish. Just OK. Alpha Estate Xinomavro Reserve (PDO Amyndeon) from northern Greece with 100% Xinomavro and 13.5% alcohol.
Wine 24: This came across as a polite red, more transparent in color, with some herbal notes and a touch of black olive, not bad. Somewhat like a southern Rhone Valley wine where not everything is quite in synch. I get the alcohol and the fruit a bit disjointed, but it is smooth enough. Give me a steak. Katogi-Strofilia Xinomavro (PDO Naoussa) from northern Greece with 100% Xinomavro at 13.5% alcohol.
Wine 25: This was among my least favorite wines. It seemed to have all too noticeable volatile acidity, a hard aspect on the palate and a drying finish. When I found out the wine, I was very surprised because I recall enjoying this in Washington DC from previous vintages… Perhaps it was just the bottle. Kir Yianni Ramnista (PDO Naoussa) from northern Greece with 100% Xinomavro and 13.5% alcohol.
Wine 26: Clear appearance with a pleasant strawberry aroma, the palate is supple and dry, and this wine reminds me of a cru from Beaujolais. Light plus body and aromatically appealing. Nice. Thymiopoulos Vineyards Earth & Sky (PDO Naoussa) in northern Greece 2010 with 100% Xinomavro and 14% alcohol.
Wine 27: Not dissimilar from the above albeit a bit more body but less aromatic appeal. Nothing to write home about: medium minus bodied and could perhaps use more depth.  Tsantalis Rapsani Reserve (PDO Rapsani) from Thessaly 2008 with Xinomavro, Krassato and Stavroto at 13.5% alcohol.
Wine 28: Violet opaque color. A touch of brett on the nose but not overbearing, especially because it also conveys herbs and spices that are quite appealing, with brambly fruit. Makes me think of a possible northern Rhone from a warm vintage. Nice job. Kir Yianni Diaporos (PGI Imathia) Naoussa, northern Greece 2008 with mostly Xinomavro and some Syrah.  Costs about 15 euros.
Wine 29: An older looking rim, and the nose is slightly metallic. There is a soft attack and some juiciness but it seems like a wine that had been opened too long, marked by a metallic aspect throughout. Not sure about this one.  Chateau Le Castellot Saint Emilion Grand Cru 2007 13% alcohol – the pirate!
Wine 30: Nose conveys a sweet red cherry that appeals and the palate has fine sap. This is a very good wine, perhaps the best of them all, even if it does dry just a tad on the finish. Domaine Costa Lazaridi Amethystos (PGI Drama) from northern Greece 2010 made from Cabernet Sauvignon, Merlot and Agiorgitiko at 14.5% alcohol.
Wine 31: Here we have far too much brett for this wine's own good. Nothing more to say. Mercouri Cava (PGI Letrini) from Ilia, Peloponnese 2007 made from 80% Refosco and 20% Mavrodafni at 14% alcohol.
Stickies
Two more wines, but the comparison was more difficult. Certainly the more expensive (at 35 euros) Achaia Clauss Mavrodapne Reserve "601" (PDO Mavrodapne of Patras) from Patra 1999 made with 60% Mavrodapne and 40% Black Corinthian at 15% alcohol conveyed some interesting mature aromas and flavors but it did not wow me. It seemed more like a 10 year old Tawny Port, rather than, say, a 20 or 30 year old. On the other hand, a clear winner – also in terms of price – proved to be the 12 euro bottle of Samos Cooperative Samos Anthemis (PDO Samos) from the north Aegean island of the same name 2007, with 100% Samos Muscat at 15% alcohol. This conveyed pleasing notes of dried apricot and seemed fresher.
Go to THIS PAGE for more Greek wines, tasted at Intercontinental and text about food and wine enjoyed in Greece