Greeks wines "passing the food test"
November 6, 2013
By Panos Kakaviatos
I admit, that when I landed in Athens from Frankfurt in early October 2013, one of the things I craved most was genuine pita bread with lamb or pork kebab. Preferably lamb. In any case, for under 3 euros, I enjoyed this delicious pita sandwich. This is part of Greek cuisine for me. Not the slow food part, to be sure. Not Youvetsi or Pastichio, but delicious nonetheless. I snapped a photo of this pork kebab wrapped in delectable pita bread that I bought at a stand near Omonia Square, not far from my hotel. Washed down with beer?
Delicious.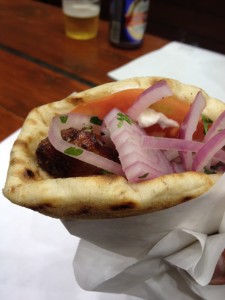 And when you go to a traditional taverna, you get enjoy other great Greek eats, such as Saganaki and lamb cutlets and meatballs and a choriatiki salata – a delicious mix of fresh black olives, feta cheese, tomatoes, cucumbers and salad and onions.
With a simple and light quaffing red like the one above.
But this website is mainly about fine wine, correct? The sure fire test to know whether a wine region is "worth its weight in tannin", is how good the wine goes with food. I know, many people talk dismissively about "food wines" but who can deny the great pleasure of, say, properly aged Burgundy with steak? Or Barolo with homemade pasta and shavings of freshly picked truffles? No one. Unless you are nuts.
So what a superb experience it was to dine at one of Athens' finest restaurants (actually located in the adjacent port town of Pireaus): Vassilenas 1920. Owner Thanasi Vasilaina joined Konstantinos Lazarakis MW (photo above) for a fabulous dinner and selected wines that I liked best from a blind tasting earlier that day – SEE HERE.
The grilled squid with smoked eggplants and garlic olive oil were a dream with some of the whites from the blind tasting.
The orzo pasta with a variety of mushrooms and a subtle truffle oil – photo above – paired marvelously with both red and certain white wines.
Certainly the red went very well with three tender beef filets.
Finally, it was a treat to enjoy one of my favorite Greek desserts but with a twist. I always have eaten with pleasure halva, which is made from tahini (sesame paste) and is a delectable dessert.
Konstantinos enjoyed this halva with a bit of cream cheese and caramel sauce added. A richer version but it worked. And a fine Samos sweet wine paired well.
The restaurant is amazing – as any glance at Trip Advisor reviews will indicate. But take it from me, a certified food and wine lover: it is near impossible to beat the quality of this restaurant for the price. No less than 8 servings for just 30 euros per person. Sweetly insane, but true.
Although the reds in the blind tasting were a touch uneven – SEE HERE – I enjoyed many from another tasting at the Intercontinental in Athens, on Sunday 13 October
I recall having a special moment tasting an excellent red from Greece, perhaps the best I have ever had. It came from a three liter bottle: Domaine Skouras Megas Oenos made from 80% Agiorgitiko and 20% Cabernet Sauvignon. Is this the Greek equivalent of a Super Tuscan? Fermented and macerated in stainless steel, the malolactic fermentation and 18 months of aging takes place in new French barrels. I was worried when I tasted a more recent vintage, because it was marked by oak aromas and flavors. But the 2005, at 12.5% alcohol, was smooth and delicious. Because Konstantinos also sells non Greek wines, representatives from those other wines also presented their wines at the tasting. Anne Laure Chartron of Domaine Chartron asked me which Greek red she should try and I suggested the 2005. She also loved this wine.
In addition to some of the Skouras wines, other "worthies" included a fine Karida Silektiko 2010 made from 30 percent Xinomavro, and 35 each of Cabernet Sauvignon and Merlot. At 12 euros a bottle, well worth the ticket. Cherry aromas soft entry,  and although the finish is a tad short, this is a delicious wine that would sell very well in the US. Especially since the producer has had success already with his more expensive Naoussa 100 percent Xinomavro – which obtained 92 points from Mark Squires, the influential Wine Advocate critic, said the owner Petros. Check last name. More subtle aromatics and nuanced mid palate, ends with a wall of tannin on the finish – but this is normal for such a young Xinomavro. Much promise.
As for whites at the tasting, I enjoyed a cooler microclimate Chardonnay from Navarino Vineyards: the Kotyle Chardonnay 2012, made from vines grown at 550 meters high slopes. It exuded some fresh iodine like notes, and was very smooth on the palate. Another white that was successful at the Intercontinental was the Ktima Pavlides Emphasis Assyrtiko 2012, with pure hay like notes – a wine fermented and aged with its lees (not stirring) in stainless steel. For 15 euros, worth the ticket. The same producer makes an Emphasis Chardonnay 2012, but it seems more heavy handed.
I noticed that when the oak is too much – as anywhere – results can be disastrous. As I had tasted in Rioja furing the European Wine Bloggers Conference. A tale of two Assyrtikos. One with oak, the other without. The latter far better.
Speaking of the conference, one of the best Greek reds I have tried came from a three-liter format bottle. Along with two well known Greek wine experts – Ted Lelekas and Yiannis Karakasis – I discovered the freshness and youthful purity from a three-liter bottle of the Tsantali Rapsani 1998 made from three Greek red varieties: Xynómavro, Krassato and Stavroto. It was delicious. Smooth and tertiary but not barnyard like. Just very fresh and thirst quenching with substance on the mid palate and a lingering finish: so pleasurable that it made me want to grab some plates and throw them on the ground before dancing a Syrtaki.
So what are you readers waiting for? Try some Greek wine, or – better yet – go to Greece and drink in there on an island. Be a god.
FOR A BLIND TASTING OF SOME 40 GREEK WINES IN ATHENS IN OCTOBER 2013, SEE HERE