Budapest delights: interesting wines, delicious food and more
September 8, 2012
A recent trip to Budapest from the end of August to early September proved delightful. The people are easy going, the history magnificent, and – what do you know? – one can discover some fine wines, too. But let's take a look at some fine city photos. One of the best places to visit is the enormous complex known as the Szechenyi Bath and Spa Budapest, which is just a few metro stops away from the city centre.
To go to my wine and food notes, please CLICK HERE.
Fully renovated almost ten years ago, it provides a far better (and, I think, cleaner) experience than that provided at the more famous Gellert Spa, which I would easily call overrated. At Szechenyi, you have more options and it is also less expensive! While Gellert costs about 4,000 Forint ($18), Szechenyi is only 3,500 (about $15).
Although they do not check if you took a shower before you jump in the pool, they insist on a haircap if you go swimming. So I bought a loose fitting plastic cover that looked more like a Saran Wrap for uneaten food! For 200 Forint  (just under one dollar).
Already spoiled by the very fine facilities in Baden-Baden, Germany – with a similar heated pool with a current that pulls you around, two outdoor jacuzzis, and better saunas – the Szechenyi location still blew me away with the sheer beauty of the surrounding architecture. Very easy to spend an entire sunny day here…
But Budapest is not just about public bathing. There are so many beautiful things to see. A series of superb buildings include the Hungarian Parliament, which reminds me of the Palace of Westminster, in its Gothic Revival style.
Just in front of the building are monuments to the 1956 uprising against the Communist leadership.
A tragic event, still fresh in the minds of many older Hungarians.
A series of lovely bridges link Buda to Pest, and I enjoyed crossing several of them – sometimes with the ultra convenient – and 24-hour – streetcar system, sometimes on foot.
Budapest is a photographer's delight, providing breathtaking cityscapes both day and night.
One of the more impressive buildings is the 19th century St. Stephen's Basilica, which is near a series of wine bars, where one can meet city dwellers over a glass or two of wine.
What was kind of strange about the Basilica was the preserved hand of St. Stephen himself! Pretty amazing in any case.
Wine tasting at the Drop Shop / Wines in BOLD I liked, in RED and BOLD even more.
A very positive experience trying Hungarian wines with Peter Lakatos at Drop Shop, a trendy wine bar in the Pest part of Budapest.
Manager Peter Lakatos was rather negative on "common" wine tastes in Hungary.
For example, high alcohol styled Shirazes. We spent at least one hour tasting several wines from Hungary. And I learned a lot.
He said that it has only been in the last 10 years or so that certain producers are paying attention to greater selection in the vineyard to make wines of quality. Though I was not a fan of every wine I tried, I enjoyed the experience.
Whites
1. We started with Badacsonyi Ike Kekiyela 2011 (12.5%) A dry white. Fine aromatic profile. A bit of acacia, a touch of residual sugar – Peter says that consumers like sweeter styled dry wines – giving off a bit of richness with a Riesling like minerality. A somewhat funny carton flavor that made me think it was just a bit off. 3,900 Florint retail.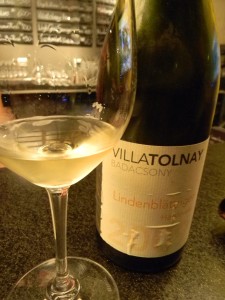 2. The second wine (photo, above) was another one from the Badacsony region from the Villatolnay winery with the Lindenblättiger grape (Hárslevelű) which is also used to make the more sweet Tokay wines. Quite a bit of legs, coming from the rich vintage 2009 vintage, which was indeed a hot vintage, Peter said, but not as hot as either 2003 or 2006, which was very hot in Hungary. There is a vanilla aspect coming from evident oak aging. Modern styled. 2,700 Forint retail, so only about $12. I have had far worse non Hungarian wines at that price.
3. Muhlberger Domaine du Pas des Loups Pinot Gris 2010. Alsace wine. Decent and dry enough. 4,700 Forint retail in Hungary. As Peter noted, this wine could be had for less money in France… it was good, but nothing special to me, as I am so used to Alsatian wines! But, I liked how it was dry and smooth.
4. The Furmint Szil Volgy Dulo, the winery is Gizella Pince Tokay 2009 14%. A nice marzipan aspect, sweet red apple, he richness is evident. It grew on me with time in glass.
5. But for whites, this next bottle – pictured above – stole the show! This was the best bottle I had, coming from a lesser vintage to boot… Alas the bottle I bought was stolen with my luggage at the Munich train station. Anyway, well worth seeking out. This Kovacs Nimrod Furmint 2010 comes from the famous Eger hill. 2010 was a cold and rainy vintage, with almost double (1,000mm) the average rainfall, which is 600mm. Anyway, this displayed lovely yellow peach and minerality. It was delicious and I kept going back to it. 5,500 Forint. You can find it in the US, at least at California's Starry Night Winery, for about $25. Worth it. Wine of the tasting? Certainly best white.
Reds
1. A Hungarian Languedoc style, Peter said. I found it medicinal and rustic, at best showing strawberry candy notes. Szekszardi Kadarka 2008, the Kadarka is the grape. Apparently it used to be an important constituent of the Hungarian red cuvée Bull's Blood of Eger, which I once enjoyed with friends in Washington D.C. over a plate of risotto! But this wine came from a vineyard grown on somewhat inferior Loos soils, Peter remarked, in a southern region of Hungary. I did not really like it.
2. The next was also a Kadarka but a much better one. The nose displayed blackberry, graphite – just a hint of asphalt like one can experience tasting a Blaufranken, but really just subtle. The palate was smooth and frank – this just tasted like it had breed. Price 5,600 Forint Gal Lajos Pinceszete Ostoros 2009. Also grown in the Eger region (northern region). Very nice job! Perhaps my favorite red, although keen competition from the Syrah, the fourth wine, below…
3. Then came a Kekfrankos (Blaufrankisch) by a young winemaker named Cosovic in his Gereg vineyard in the region of Matro, which is near Eger. Here I get a bit of unpleasant rubber on the otherwise spicy nose, but the palate is smooth, spicy and rich, albeit a touch warm. This is a limited edition wine – just 440 bottles – but I was more impressed with the preceding wine. Also 2009 vintage.
4. After this, an excellent wine that really tasted like St Joseph. Kovacs Nimrod Eger Winery Syrah 2008 13% from the Nagyfai terroir. It smelled like a St Joseph, with pepper notes, brambly red and black fruits, cranberries. "This is atypical for Hungarian Syrah," Peter rather lamented. Another wine well worth drinking in Budapest. But not inexpensive. 5,500 Forint.
5. The next wine – photo above – was an interesting old Pinot Noir. Old by Hungarian standards, for the color of this Sopron Pinot Noir 2005 was quite evolved. Rusty almost, and an initial note of pronounced wet sock had me worried. But it blew off with time in glass, and became more interesting although never too profound. 2005 was a cold and difficult vintage, Peter said. "Almost no one in Hungary drinks wine that is this old," he added. He had no price, because it is not available.
6. Then we tried a quite expensive Cabernet Sauvignon (8000 Forint), the Vida Pokr Skekszardi 2007 (13.5%) which had a sweetish, modern nose. Only one barrel made of this wine, which explains the high price tag. I got a very smooth and fruit forward drink, and was left wondering if just a touch of residual sugar lended a certain richness to this wine. Certainly not as interesting – and not worth the money – as the Syrah or the second Kardaka, which was probably my favorite red of the evening.
Fine eating at The Wine Kitchen – Borkonyha. It is not for nothing that this place has so many superb reviews. Let me add mine. Peter recommended it, so I was almost certain that it would be good, as Peter is a thoughtful wine and food lover. Just near St Stephens Basilica in the 5th section of Pest, here is yet another accolade for Budapest: you can find fine quality at low prices. I just ordered a main course of Mangalitsa pork, a tender filet, with some superbly prepared, lightly grilled, lightly buttered veggies: turnips, carrots, delicate and perfumed mushrooms, squash, wild parsly. The rosemary flavored pork was delicious!
How much would one expect to pay for something like this dish in, say, Paris? Or even Strasbourg? At least 20 euros, probably 30. But at The Wine Kitchen, this was about $15! Washed down with a decent Kardaka wine (not as good as the one I liked at the Drop Shop), but smooth and flavorful – and just $4.
Speaking of prices. I stayed at the centrally-located luxurious Hotel Corinthia in Pest, which included a fine spa (jacuzzis, steam bath, sauna, 15-meter pool) in a suite like room (large bed, sofa, desk, full bath with both shower and bath).
How much? 100 euros per night, which is almost the money one would pay to stay in a chain hotel in Paris… Think about it. Budapest is a great city, with illustrious history and culture and beautiful sights. And it is not too pricey!
Finally, I happened to arrive when the city organized an annual beer festival at the Royal Palace along the Danube on the Buda side of the city. It proved a lot of fun. So, let's not be all wine. Here's to some fine beer enjoyed on the grounds of the Royal Palace!
Cheers, Panos